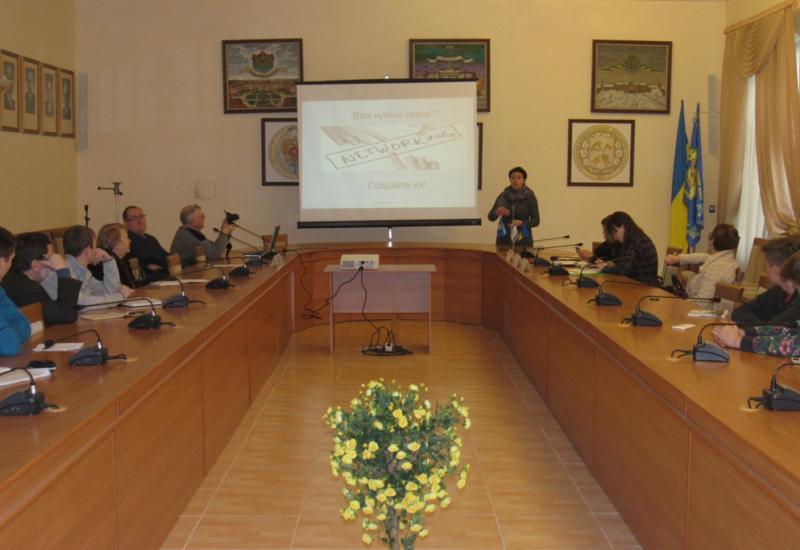 On March, 24th the delegation of the trainers of the Israeli Missions Around the World (IMAW) and the International Training Center 'Karamel' named after Golda Meir (GMITC).
Kateryna Rudenko and Natalia Mazor comprised the delegation as well as Olga Tsyprykova, project coordination of the Israeli Embassy. Sergii Shukaev, the Head of the International Department of the International Collaboration of the University, Inna Maliukova, the Director of the Postgraduate Institute, lecturers, students and postgraduate participated in the meeting.
The meeting was held in the format of introductory seminar. It started with the presentation of the IMAW by Kateryna Rudenko. She spoke about IMAW, its directions, goal, projects and the conditions of participation in them. Created in 1958 with the initiative of Golda Meir, the former Minister of Foreign Affairs of Israel, the organization operates with the purpose to assist developing countries to progress. The organization provides the participants with necessary information on technologies and know-hows that are successfully applied in Israel with further integration them in the motherland. The following directions function in IMAW: medicine and human health, agriculture and food security, education, development of rural regions and towns, entrepreneurship, social development, gender equality, humanitarian help. Concerning the IMAW education, several peculiarities should be mentioned: the majority of programs are directed on the professionals that have qualifications in certain areas and will be able to spread their knowledge and skills in their countries on going through apprenticeship in IMAW. Over the past three years more than 280 000 specialists obtained such education. The studies are available in one of five languages: Russian, English, Spanish, French and Arabic. Nowadays, one of the projects is being fulfilled in four southern Ukrainian regions – Odessa, Mykholaiv, Kherson and Zaporizzia.
Kateryna Rudenko also spoke about the programs of the MASHAV Carmel Training Centre (GMITC) that was created with the initiative of Golda Meir in 1961. It focuses on gender issues, however, certain proportion of males participate in its programs. The major centre directions are: development of individual entities and small businesses, sustainability, preschool education and nursery.
The speech by Natalia Mazor was devoted to the networking issues – the art of creation and development of professional connections and application them in business. Self-presentation example within 60 seconds was of incredible interest for the audience. The notices about the tools and methods of effective presentation were useful as well. Networking groups work in many countries. They now become a powerful instrument for promoting business-projects.
During the discussion, the participants came up with a range of questions, especially interesting for students and postgraduates, first of all, for Sikorsky Challenge Start-up School trainees. So, chances are that more amiable meetings devoted to particular directions and programs will be organized after this one.