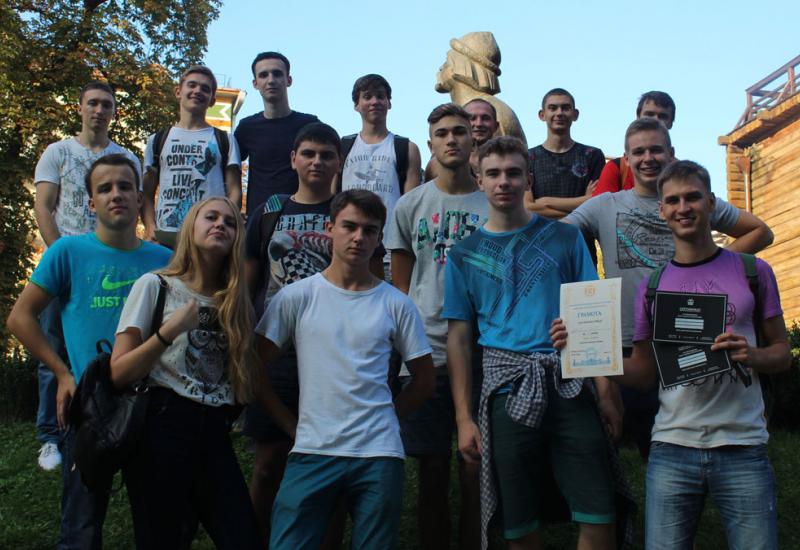 Quest excursion "The legend of big city", which is traditionally held by students town NTUU "KPI" for first year students, took place in September 26. In interesting, living form students learned Kyiv, got to know about interesting places and legends of one of the best capital in Europe. In general, in quest took part 14 teams and 12 dorms. Teams included 8 individuals, on the route they accompanied by social worker and curators.
Competitions was remembered not only gradual route and interesting tasks, and the fact, that there was much cultural and sports events in the city. It caused good mood and new dating. Students saw March of embroideries, Podol's festival, sport competition on Maydan Nezalechnosty. The route included with 11 temporary suspensions near interesting places and memorials: Andriivsky uzviz, Sofiivska ploscha, Golden Gate, Maydan Nezalechnosty, the landscape alley, the "Dinamo" stadium, "Ivan Franko" theater, National opera of Ukraine, Mariinsky park. During the route students performed interesting social-communicative tasks, which caused the development of communicative skills: painted passers-by in various colors, handed out balloons to the children, did different sport exercises and solved logic puzzles.
According to the results of quest, it was determined the winner team: I place – dorm number 13, II place – dorm number 7, III place – dorm number 16. Students received interesting presets from partners of competition.
Quest lasted almost 4 hours, during this time first year students got to know a lot of new information and became closer to each other, which a good example of team work and promotion of the active lifestyle. In the future there will be another new competitions and tasks.