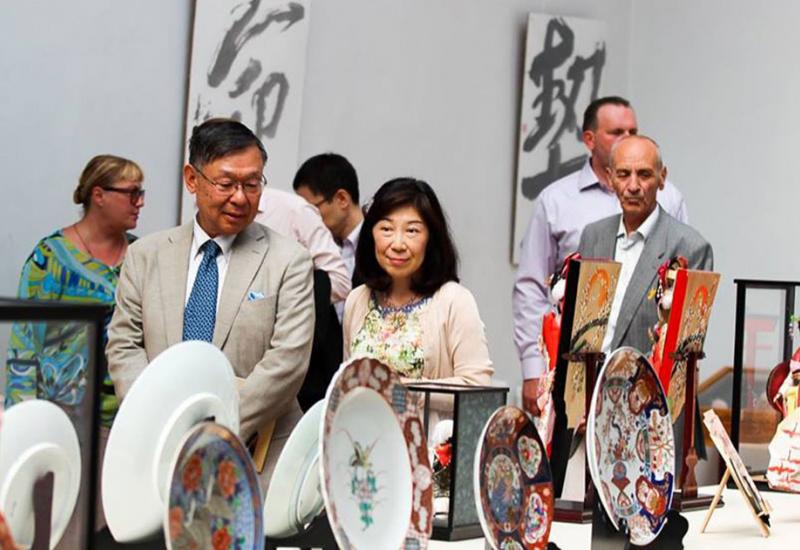 In early September, employees of Ukrainian-Japanese center NTUU "KPI" took part in realization the Days of Japan in Odessa, which were from 3 to 5 September and were devoted to the 50th anniversary of the establishment of sister city relations between the cities of Odessa and Yokohama.
2, September  the director Ukrainian-Japanese center NTUU "KPI" Yuriy Kushnarov together with representatives Council of Odessa and special guests of Yokohama participated in official events with the participation of Ambassador Extraordinary and Plenipotentiary of Japan in Ukraine Shigeki Sumi and his wife. There was a ceremony of flag-raising, a ceremony reception in honor of the birthday of Odessa, planting roses to mark the 50th anniversary of the establishment of sister city relations between Odessa and Yokohama, and was a gala concert.
3, September  in  the Odessa Museum of Western and Eastern Art was opened an exhibition of kimonos, Japanese prints and Japanese decorative paper, and in he Odessa Art Museum was opened an exhibition of calligraphy, photographs Yokohama and Japan, Japanese dolls, plates and embroidered Temari balls. Odessans and guests also had the opportunity to see Japanese films, make "zhuravlik" and transform a piece of cloth in a stylish handbag in master classes on origami and furoshiki, watch how cooking sweets and taste the Japanese mochi rice balls, learn more about the art of tea ceremony and ikebana, hold in your hands a brush and even write a hieroglyph or even a picture in the technique Sumi-e.
Especially for students and lecturers of Odessa National University behalf of I.I.Mechnikov, expert of teaching Japanese language Mrs. Miyadzaki made a presentation of the latest developments Japan Foundation a textbook "Marugoto" and an outdoor lesson using this tutorial. In the city library behalf of I.Franko were lectures on Japanese language for beginners as for adults and for children. For one hour the students could say hello, acquainted with each other, talk about yourself and write your own name in Japanese.
One of the most striking events was a concert Japanese drums "Tayko", which was the 3 of September, this incredible energy of "live" instruments left a mark in the heart of each listener. A night on the 4 of September was remembered by grand event such as a demonstration of tea ceremony from Olga Silnytska, Urasenke school teacher, and a demonstration of ikebana art from a professor Ikenobo school, President Ikenobo Eastern Europe Study Group (Ukraine, Moldova) and Angela Lobastovoyi teacher of art ikenobo, school Ikebana by Helen Kapranova-Korchevnyuk.
The team members Ukrainian-Japanese Center were deeply impressed by the interest from Odessa to all activities of the program Days Japan.
Significantly, the ambassador Shigeki Sumi and his charming wife, along with honorable delegation visited all the activities of the day Japan, including judo tournament in junior sports school №4. Head of the Japanese embassy presented awards and prizes to the winners, congratulated the citizens of Odessa on the anniversary of the establishment of diplomatic relations between Yokohama and Odessa and thanked for their interest in Japanese culture.
The Ukrainian-Japanese Center NTUU "KPI" is gratefull for Council of Odessa for the initiative and helping in conducting the Days Japan, the apartments "Deribas" for the hospitality and comfort, the restaurant "Kobe" for help in conducting cooking classes and tasty lunches, volunteers especially Japanese students of Odessa National University behalf of Mechnikov for their assistance in the preparation and implementation of activities, and also our partner the company "Nova Poshta".