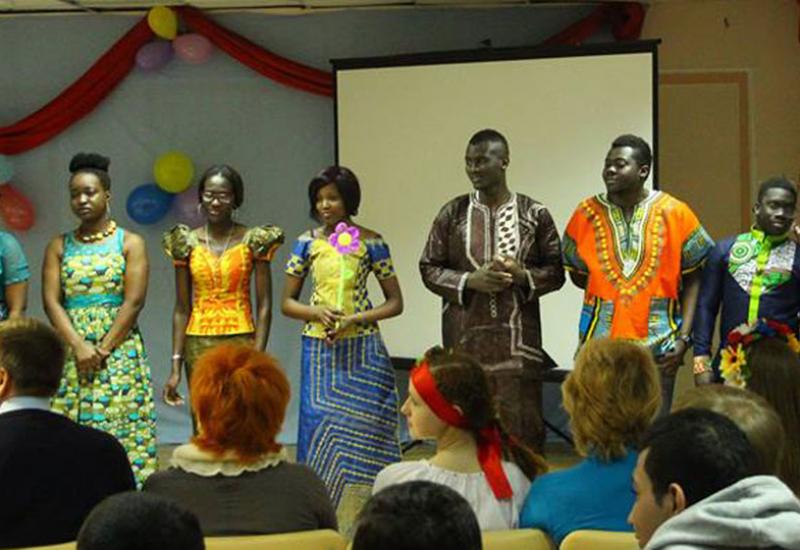 Cultural and artistic event dedicated to the Day of Africa, took place on 9-th April in the Centre of international education of NTUU "KPI". Traditionally The Day of Africa is celebrated on 25-th May ( in this day in 1963, established the organization of African unity). But in May at KPI we have the summer exams , and foreign students from Africa decided to celebrate this holiday earlier.
Many guests were invited: Vice-President of the African Council in Ukraine Issa Diallo Sadio, the leaders of the Center of international education, students NPU named after. M. P. Dragomanov, listeners preparatory Department of KNUBA, representatives of the Student Council of NTUU "KPI", etc.
They congratulated Mr. Issa Diallo Sadio and Director of CME V. A. Koval.
According to the scenario, the celebration began with an imaginary journey by plane to Africa. Guests guessed riddles and called the country represented by the national suits to get tickets. Students which played the role of guides on this hot continent were: Kwanza Richard (FMM), Lots Selasa Kwaku (FEL), Kunduno Zhilbert (FAU), Patrick Asare Owusu (FBM), Tanya Kiusil (PMI). Mainland greeted guests with a poem performed by student Adjar David
Vangeldi and the song which was performed by Dance Janet Obenewa, Marty Miriam, Anyansah Rita Benuiva (FEL).
The first country which was visited by guests was Democratic Republic of the Congo. Here people can extract uranium ore, gold, diamonds and they are planting coffee. The Congolesans love sining and their ceremonies are accompanied with their melodies . The music of this country was introduced by Wunda Mpembele Gedeon (FAX).
The following country was the Republic of Ghana and it met the the guests with national dance palugu. In the XV–XIV. the country was called the "Gold coast", it produced 10% of worlds gold. The day of the week when the person was born has a great value in the culture of Ghanaians.
For example, Kwaku means Tuesday, Kwabena – Thursday, Amma – Saturday. Ghanaians loves dancing , and the national dance was performed by Marty Miriam (FEL). Then the audience went to the Republic of Guinea, where they enjoyed the singing of the Lua Boniface (FICE). The Republic Guinea is very beautiful, it attracts many tourists. Main natural attractions are the thresholds of Fuama and Batara waterfall.
The neighbor of the Republic of Guinea is Senegal. It is known for its beaches, but mostly the fame of the country is made by the annual rally Paris – Dakar. The country has an amazing Pink lake, which color is similar to the color of strawberry cocktail . The students Diediu Adama (FBM) and Sane Astu Rugi presented national songs of their homeland.
In conclusion, the participants of the "gurney " returned to Ukraine, where they were welcomed with bread and salt and melodies played on the bandura. The guests were impressed by the African rhythms , they were leaving the hall and hoping to return here very soon.