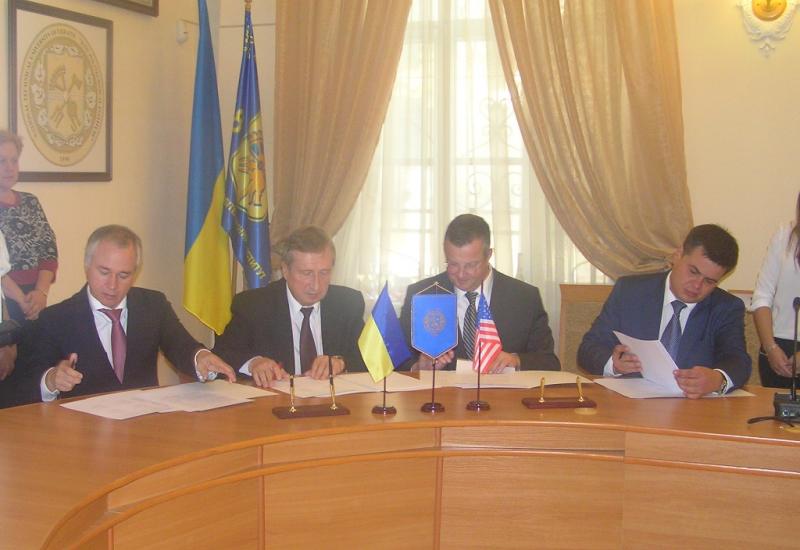 Memorandum on collaboration in the field of water purification between "RML" Water (USA), "Agency for Donbas development", "Nature technologies" ltd. as well as Scientific Park "Kyiv Politechnics" has been ratified in September, 28 in NTUU "KPI".
The document has been signed by the president of Scientific Park "Kyiv Polytechnics", rector of NTUU "KPI"- academician of Ukrainian NAS Mychailo Zgurovskyi, chief manager of "RWL Water" company Philippe Laval, general manager of "Agency for Donbas development" Dmytro Tolstosheev and the president of "Nature technologies" company Volodymyr Pysuhin.
The problem of water supply in Donbas has been urgent in the course of war that caused damages to the eastern regions of Ukraine. The manager of Donetsk region state administration, who hold this position in difficult times at the beginning of war and currently being the member of parliament, representing district #58 (Mariupol city, Donetsk region) Sergii Taruta at the table meeting before the signing ceremony spoke on the situation associated with water as well as the measures that are to be taken to improve this situation.
"During the first months of military operations we faced a difficult problem of systematic and purposeful shutdown of water service companies. There were subversive actions towards substations, water lines and in fact, during the past half year –from summer period and till winter – the great part of Donbas (35 % of its area) has been left without water. "From that time we started looking for alternative ways of water supply – he said. Thus, the issue we are discussing today is extremely topical for almost all Ukrainian cities, including both Donbas and Kyiv that has also the lack of potable water".
The participants of round table have also previously visited Scientific and educational center "Pure water". In summer 2013, the founders of this center were NTUU "KPI" and "Nature technologies" company. Currently it is the main university laboratory that coordinates activity of 18 working groups of different faculties that work over water treatment, water purification as well as water sanitation and sewages utilization issues.
"Nature technologies" company is the leading Ukrainian company that during many years has been implementing modern technologies for water treatment and water purification. Its specialists managed to put into practice several major projects: they have constructed first in CIS mining waters purification plant for plc. "Alchevsk metallurgy industrial complex", first in CIS water desalinization plant in Kaliningrad city, modern training system, water desalinization and sewages purification at "Odessa port plant" plc.
The collaboration with famous company in field of water purification, sewages sanitation and utilization "RWL Water" create prerequisites for issues associated with pure water supply in the most deprived regions. The company specializes in design, manufacture, assembly, exploitation and technical maintenance of modern water purification systems.
As the member of round table Philippe Laval stated, the important feature of "RWL Water" company is that it neither sells nor installs equipment that is produced by other companies. In close collaboration with their partners, its specialists seek and find own solutions concerning the ways of combating each particular problem of potable water supply, industrial enterprises water supply, water purification, sea water desalinization, sewages sterilization etc. Two figures can be examples of such a range of activity: during three years, the company's employees have successfully put into practice over 7000 projects in 70 world countries. Thus, we may hope that ratified document will be a base for a successful cooperation between "RWL Water" company, national enterprises and scientific organizations for renovation and modernization of water supply system on Donbas and shortly in other regions of Ukraine.