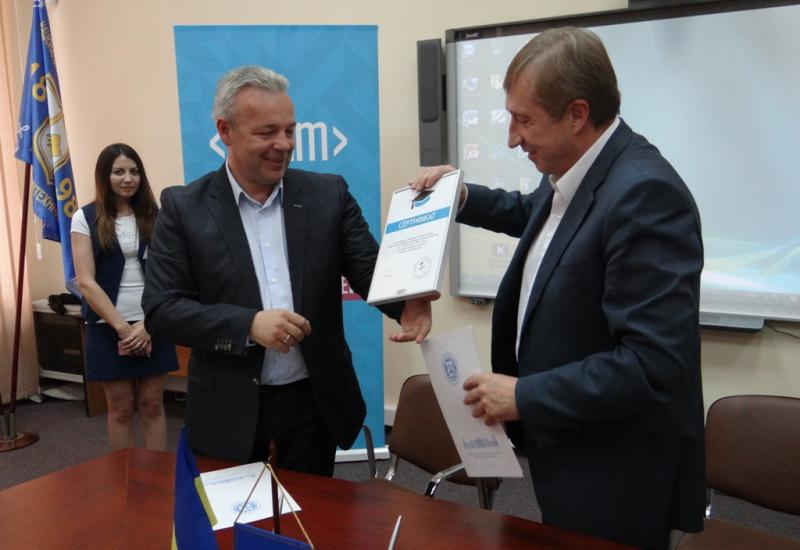 10 July in NTU "KPI" was held ceremony of new modern server hardware assignation for scientific and technical library.
Thanks to the new equipment in the library has an opportunities to expand the range of Web-services, upgrade the automated library system ALEPH (this is, incidentally, one of the world's best library automation systems used at Harvard, Oxford and other leading universities in the world) and introduce its new modules, automate delivery of books in all parts of the library, ensure further development of its electronic archive as a platform of open access to university scientific information and to expand the presence of KPI scientists in the international scientific space and so on.
Equipment has provided the company «EPAM Systems». Actually, it was set up earlier, and 10 July was just its official assignation to the University with the award of a certificate.
In the ceremony of the official assignation of new equipment to NTUU "KPI" took part head of the «EPAM Systems Ukraine" Yuriy Antoniuk, Rector of NTU "KPI" academician NAS of Ukraine Mikhail Zgurovsky, Acting NTV director Marina Druchenko, head of educational programs «EPAM Systems Ukraine" Maxim Pochebut, rector of NTU "KPI" on Science academician NAS of Ukraine Mykhailo Ilchenko, Vice President for perspective development professor Oleksiy Novikov, library staff, teachers and university scientists and others.
The company «EPAM Systems» - one of the world's largest IT companies, recognized leader in the development, testing and maintenance of software and business applications, creating competence centers (centers of dedicated development, testing and quality control software) IT consulting and so on. The company's products are well known on the world market, and among its clients include such giants as «Microsoft», «Novell», «Oracle», «The Coca-Cola Company», National Bank of Ukraine and many others. It is not the first year the company develops partnerships with NTU "KPI": the University has four of its centers, students have practice in its departments, internships and training, and graduates pouring into the ranks of its employees. The cooperation benefits both sides: the university receives additional opportunities for qualitative training of future professionals and the IT industry and, in fact, the company - qualified staff in relearning or re-education and which do not need to spend money and time.
The conversation of heads of Ukrainian representative office of «EPAM Systems» and the National Technical University of Ukraine "Kyiv Polytechnic Institute" during this meeting was not limited just issues of partnership in the educational field. Michael Zgurovsky noted that the present time requires the switch to cooperate in innovative projects. Especially because the KPI has created a structure that is a bridge that provides effective business interaction with a university education and science. It is about Scientific Park "Kyiv Polytechnic", which has become the innovative environment that allows ideas of university researchers (both students and experienced scientists, teachers) embody in life and ensure their commercialization. Details about the activities of partners and projects implemented in the Science Park now told its CEO Jaroslav Kologrivov. Given the basic profile of the company «EPAM Systems», he stopped on IT component of the park and its capabilities to solve the most difficult non-trivial task.
"I was very pleased to see and hear this presentation. Great that the KPI does not stand still, but constantly moving forward, - said Yuriy Antoniuk. - It is interesting for uswe would like to be closer to the center where we could get creative and informational support ... ". And, at the same time noted that despite the fact that IT topics are indeed leading to «EPAM Systems», in recent years, the company is actively expands the range of its activities, and includes to it quite high-tech areas, so they also have great potential in terms of mutually beneficial projects.
Considering mutual interest NTUU «KPI» and «EPAM Systems» in deepening cooperation was a logical conclusion of their cooperation agreement, which spelled out the general directions of joint actions, forms of cooperation and obligations.
Finally participants agreed that experts of NTUU "KPI" will send to the company «EPAM Systems» a list of their proposals on specific areas and sectors of cooperation for discussion and decision-making.