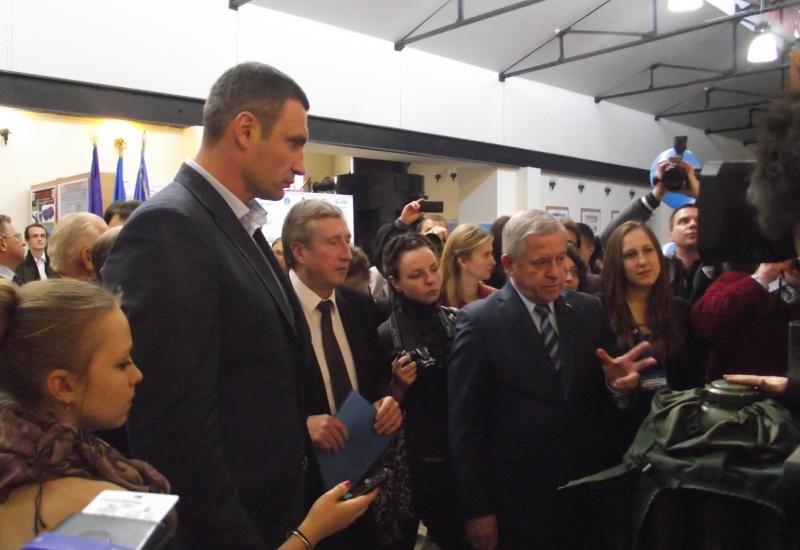 22 April in NTUU KPI took place City Forum "Innovative development - the foundation of a prosperous, thriving community and business"
 Within its course took place an official event at which Memorandum on Collaboration in Business-Government-Science format in the Science Park "Kyiv Polytechnics' Center for Innovative Entrepreneurship" with parties being Kyiv City State Administration, National Technical University of Ukraine "Kyiv Polytechnic University" and Science Park "Kyiv Polytechnics".
The document was signed by Kyiv Mayor Vitaly Klitschko, NTU "KPI" NAS of Ukraine Rector Mikhail Zgurovsky and CEO of the Science Park "Kyiv Polytechnics" Yaroslav Kologrivov. The forum was also visited by the president of the Ukrainian Association of Industrialists and Entrepreneurs Anatoliy Kinakh, President of the Junior Academy of Sciences of Ukraine and  NAS of Ukraine associate Stanislav Dovgy, heads of investment companies, business angels, business leaders, scientists, teachers and university students.
The signing ceremony served as a final step to a number of proceedings within forum's program framework. Kyiv State Mayor's KPI visit started out with a visit to exhibition of students' startups and developments which was held in the Exhibition Hall of the Science Park "Kyiv Polytechnics". After this the presentations with KPI start-up school Startup School «Sikorsky Challenge» graduates' start-up projects were held which were presented by the chief school's coach, the "Be Next IT" Israeli business incubator director Igor Peer and their authors. NTUU "KPI" Rector Mykhailo Zgurovsky's speech about Science Park "Kyiv Polytechnic" innovative ecosystem «Sikorsky Challenge», which was established at the university, and the prospects for building a KPI Innovation City «Polyteco Science City» supplemented and summarized the presentations.
The name of this ambitious project is already known to the general public – the information about its start was on the pages of many Ukrainian media in this year's early February. Recently, work on the creation of «Polyteco Science City» was brought to a new level and forum participants were informed about it by Science Park partners which participate in the project – the investment company ILand Management representative Vladimir Gnat and president of «Nature Technologies» Vladimir Rysuhyn.
Thus, the Memorandum signing ceremony has served as a logical conclusion of City forum, which for its part has to become the beginning of further joint activities of the city government, business and science in a very important for everybody development of high-tech and innovative businesses, and therefore – overcoming of a number of capital's and country's in general problems.