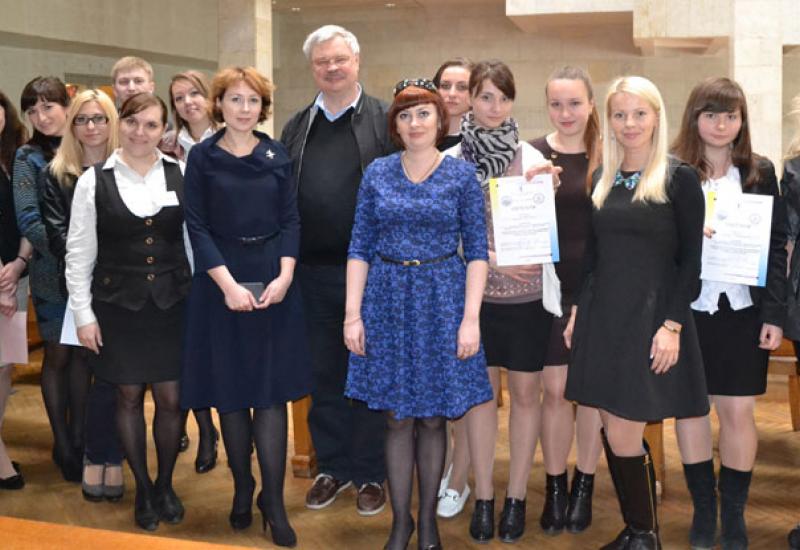 April 24, 2014 V National Scientific Conference "Modern approaches to  business management" was held at FMM with international participation. The event was supported by the Dean of FMM, Doctor of engineering, prof. O.A.Havrysh, and under the guidance of head of the Department of Management prof. V.V.Derhachovoyi. This conference has become a tradition of the Department of Management. Such conference contributes discussion of current issues of business management because of certain socio-economic, political and institutional contradictions in the development of economy and society. Also, it is an invaluable exchange of knowledge and best practices between scientists, teachers, leading experts and students.
At the plenary meeting, which was held in scientific and technical  by H.I.Denysenko gathered more than 130 participants. Among them: Minister-Counselor of the Embassy of the Argentine Republic in Ukraine Herman Dominguez; Head of the department of economic problems of environmental policy and sustainable development DU Institute of Environmental Economics and Sustainable Development of Nano, Doctor of engineering, prof. E.V. Khlobystov; Head of Department of Management of the State University of Telecommunications Doctor of engineering, prof. V.M.Tupkalo; Head of Department of System Research G.M. Dobrov Center for Scientific and Technological Potential and Science History Studies prof. O.S.Popovych; Professor of the  Department of International Management KNEU named after V. Hetman  L.P.Halperin; Deputy Director of the State Certification  Center DSNS Ukraine V.O.Pryschepa; Head of the Department of Sumy State University prof. O.M.Telizhenko; senior research fellow of E. O. Paton Electric Welding Institute S.V.Pustovoyt and teaching staff of the Department of Management  NTUU "KPI".
The main subject areas of the conference were fixed: innovative, informational, investment components of modern approaches to management; macroeconomic aspects of management  foreign economic activity of companies in the context of international integration; formation and development of the competitiveness of business today.
Section meetings were held under the guidance of prof. I.B.Zhylyayev; prof. O.F.Morozov; prof. O.S.Popovych with the discussions of relevant areas. Considerable attention was paid to applied scientific principles of formation and development of competitive business environment, research preconditions of integration relationship innovative, informational, investment subsystem management. The result of the conference was publication the collection of scientific works, which has 111 articles.
Due to the coordinated work of the organizing committee, teachers and students of the Department of Management, conference was held at a high organizational and scientific level, and the results will be the impetus for further research and discussion about management in an uncertain external environment.