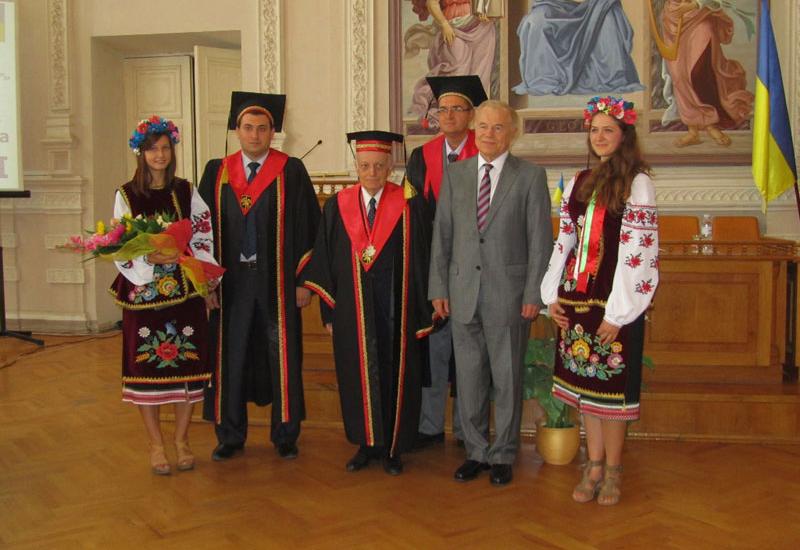 September1, at the first in the new academic year meeting of the Academic Council of the University, graduate KPI and one of its sincere friends doctor of economic sciences Janusz Fuchsa (Poland) was awarded an Honorary Doctorate of NTUU "KPI".
Diploma, mantle, bonet and sign Honorary Doctor were handed him by the first pro-rector, academician of NAS of Ukraine Yuri Yakimenko.
A graduate of the Faculty of Mechanical Engineering KPI in 1959, Janusz Fuchs never interrupted relations with his Alma Mater. Moreover, in 1985, he returned to his home institution - now for scientific training at the Department of Business Administration. This training was especially important for him, because in 1974 he headed the Section of KPI graduates in Poland, which includes now more than 300 people.
This public organization, which in 2012 was 90 years old (!), is one of the very prominent spokesmen for the interests of Ukrainian engineers and scientists in Poland. For a long time it was headed by the great Polish physicist and chemist and statesman Wojciech Sventoslavsky, whose monument stands now near the building №4 University. Nearly 40 years in a row, Polish and Ukrainian specialists meet in Poland in the general seminars organized by the Section, to discuss topical issues of Ukrainian-Polish cooperation. Only during the eighties of the last century 75 Polish specialists were trained in KPI. Agreements between the departments of the KPI and the Wroclaw University of Technology on scientific cooperation are restored now with the support of the Section. There is also exchange of trainees and young workers. The Section also has an active publishing activities, in particular extremely interesting issues of "Memoirs of Kiev", the authors of which are its members. A virtual tour of the KPI was hosted on its website, which contains information about the history, the present and the achievements of the university. And each year, September 1, Dr. Fuchsa is visiting the University and is actively cooperating with the newspaper NTUU "KPI" "Kiev Polytechnic."
"Kyiv has become my second home town, so I'm always happy to come here .. - said in his speech Janusz Fuchsa. - Let this award will be further proof of the effectiveness of cooperation and friendship between the university and its alumni. Let it will reward the entire society of Polish scientists and engineers who graduated from the KPI. Let our university grows, develops and gets stronger! .."