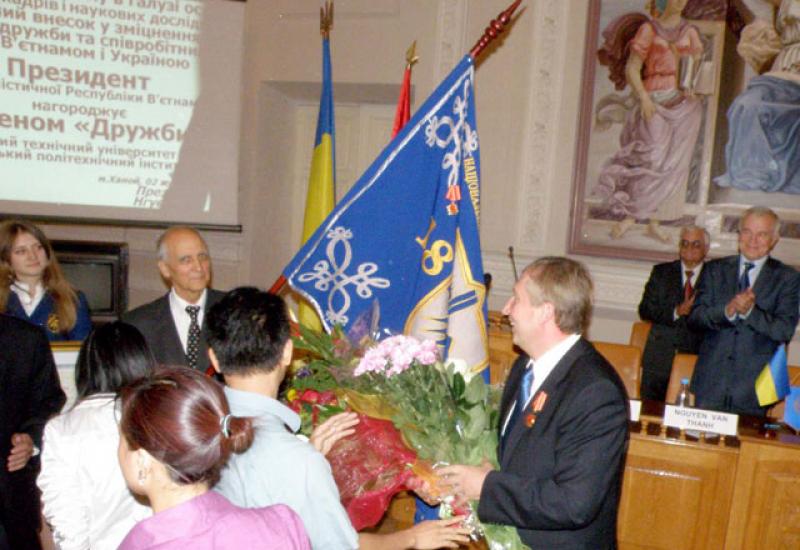 Awarding Ceremony "KPI" and its Rector Academician M. Zgurovsky highest honorary award Socialist Republic of Vietnam for foreign citizens and organizations - the Order of Friendship on 24 September in the Hall of the Academic Council of "KPI".
These awards from President SR Vietnam awarded "KPI" and its rector for cooperation in the field of education, training and the development of scientific research, active contribution to deepening and strengthening the traditional friendly relations between Vietnam and Ukraine.
For the team of Kyiv Polytechnic Institute it is a great honor and recognize the efforts of teachers and researchers of the University, which for decades were preparing qualified personnel for the Socialist Republic of Vietnam, worked together in the scientific field. Today's Vietnamese students studying in NTU "KPI", adopted by previous generations of hard work and perseverance in learning, the desire to get high-quality knowledge to be used in the future for the profession development and prosperity of their country. KPI graduates in Vietnam are successful people who support cooperation and friendship between our countries, for which we are sincerely grateful.
The ceremony was attended by representative delegation of the State SRVietnam led by the head of the Society of Friendship "Vietnam - Ukraine" Mr. Nguyen Van Kuenom, diplomats, including Ambassador of Vietnam in Ukraine p.Nhuen Van Thanh, representatives of government, including K.S.Samoylyk - Secretary of the Committee on Science and Education of the Verkhovna Rada of Ukraine, M.V.Striha - Deputy Minister of education and Science of Ukraine, members of the public, students and the media.
In his speech Mr. Nguyen Van Thanh said: since 1962 KPI trained more than 400 experts to Vietnam. They have made a significant contribution to the development and prosperity of their country. Graduates KPI always mention with sympathy and gratitude about Ukraine and Kiev Polytechnic and then actively working to strengthen friendship and cooperation between our countries.
"From now the Order of Vietnam will be on the flag of "KPI" attest for present and future generations of Kyiv polytechnics that hard work of students and teachers, friendly relations among peoples find appreciation and response in the hearts of people," - said the rector of the university M. Zgurovsky in his speech. He thanked for the high award and expressed readiness to promote a business friendly relations between Ukraine and Vietnam. M. Zgurovsky also mentioned the joint research projects that are being implemented now and relating, in particular, energy efficient technologies, renewable energy, modern components for electronic products, laser processing technology metals, refractory materials, and medical diagnostic equipment, agricultural waste utilization technologies , organic fertilizers and so on.
Vietnamese citizens - KPI graduates and current students - in their speeches expressed their deep appreciation throughout the educational and teaching staff for acquired modern knowledge, familiarity with the history and culture of interesting European country. They emphasized that proudly bear the title of graduate or student of the Kyiv Polytechnic Institute, and assured that youthful glow will pursue the acquired knowledge in practice, hard work for the strengthening and prosperity of their country.