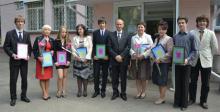 Address: 39, Umans'ka str., Kyiv, 03087
Telephone: 242-77-78, 243-08-73
E-mail: mail@tl-kpi.kiev.ua
Site: http://www.tl-kpi.kiev.ua
Each year hundreds of young people are pinning their hopes on the best technical university of Ukraine —"KPI" and coming here to learn. Applicants from all regions gather in the Polytechnic, the best of them becoming freshmen and getting cherished student ID. And there are creative centers for gifted youth — graduates from specialized lyceums are almost at full strength entering the KPI. Among them — the Technical Lyceum "KPI" in Kyiv.
Educational process provided by 44 experienced teachers, including 7 PhDs, 17 with the title "teacher-methodologist", 2 of them "Honored Worker of Education of Ukraine", 14 were awarded an "Excellence in Education of Ukraine." They skillfully combined scientific research and teaching activities: participating in scientific conferences and seminars, write and publish books and manuals, which taught pupils of secondary schools in Ukraine. Teacher of Physics L.M.Zasyedka in the delegation of Ukraine took part in the first international training program of CERN (Switzerland) "Large Hadron Collider — the implementation of modern technologies and physical ideas." Technical High School "KPI" cooperates with the lecturer and the Institute for Monitoring Educational Quality "KPI". The teachers spend with students KPI workshops, laboratory work, seminars, lectures, engaged in scientific and career guidance.
The eleventh grade on the basis of KPI writing the target certification tests in mathematics, physics and Ukrainian language. Each year over 250 students has become winners of MAN, county, city and national competitions. In the past academic year, 103 students of the Lyceum took prizes in regional competitions, 49 were winners in the urban stage national competition, 87 — winners of regional stage MAN, 20 — winners urban one stage MAN "Researcher". Andrij Maljyk took third place in the national Olympiad on Astronomy. Last year, on the basis of independent external assessment in mathematics, physics of the Ukrainian language and literature, chemistry and biology high school entered the top ten schools in Kyiv.
There is a winged phrase of one of the students: "Lyceum is the motherland and I'm its child." It has made a number of fun activities which are traditional; all students are preparing for them and waiting impatiently. In particular, it is "Initiation into Lyceum", "Family Circle" "Embroidered shirt's Day", "Day of Ukrainian dishes", "Carnival", competitions at the Lyceum Cup in chess, football, swimming, "Merry Starts" and Mini Olympics. Works the Theatre of psychological miniatures, sightseeing center and others. Last year, 44 students of Lyceum have traveled cities in Europe, familiarized with architectural monuments that are included in the UNESCO World Heritage Site, this spring, visited St. Petersburg.
In the Lyceum we are constantly working on improvements the educational process and create conditions for all-round development of pupils. So we have a promising youth, where is hardening future specialists of national science and industry.
F.M.Krasjuk Director of Lyceum