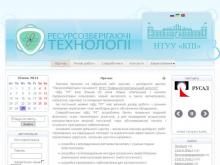 Scientific Advisor: Panov E.N.
Address of SRCRT: Polytechnichna street, 39, Bldg. 19, 337room, 03056, Kyiv, Ukraine
Tel. / Fax: +380 44 204 8309,
E-mail: admin [at] rst.kiev.ua
For over 20 years SRC "RT" cooperates with various non-ferrous, ferrous metallurgy and refractory, silica, food and paper industries.
Currently the SRC "RT" has extensive experience with different thermal units and the necessary equipment for their inspection.
Employees of SRC "RT" developed many numerical models of the physical condition of industrial units, and powerful fleet of modern computer technology and software for payments is being used. The main field of concern of this center is the scientific research aimed at improving the energy and heating efficiency of various industrial units, and it includes the following aspects:
development and implementation of regulations for roasting and drying of electrolyzers;
development and implementation of methods of calculating the energy balance of aluminum electrolyzers of large and small capacity;
software development for mathematical modeling of technological and operational performance of aluminum electrolyzers, pantographs, foundry mixers, ovens of graphitization, calcining, open baking furnaces and elektrokaltsinators, performance of numerical calculations according to developed programs;
determination of the thermal efficiency of equipment for the production of cardboard, calculated and experimental determination of parameters of such machines in translating them into improved performance;
research of protective coatings and development of long-lasting probe for measuring melt temperature and dynamic characteristics of electrolyzers lining material since their start-up;
development and implementation of measurement systems and software for remote monitoring of temperature and heat flow at high temperature equipment;
experimental investigation of temperature and thermal performance of different types of electrolyzers of different designs, foundry mixers, ovens graphitization, calcining, open baking furnaces and elektrokaltsinators;
energy audits and the development of resource and energy saving measures in various enterprises in order to reduce the consumption of steam and hot water;
folding energy passports of enterprises.