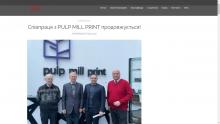 Address: 03056, m. Kyiv, vul. Yangel, 1/37 (academic building of "KPI" №8);
tel .: 241-96-22
Head: Dr. Sc. Science professor. Velichko Elena.
The Department of Reprography of VPF NTUU "KPI" was established in 1990 on the basis of the Department of General Physics, Chemistry and Higher Mathematics of KPI, which in 1989 included KVF UPI. I. Fedorov. But the retrospective history of the department dates back to the 50s of the twentieth century. From 1953 to 1989, many talented teachers of mathematics, physics, and chemistry worked in this department (which changed its name many times during this period: first it was the Department of Physics and Mathematics, then the Department of General Sciences, and finally the Department of Reprography).
The purpose of the department was to train technological engineers who would develop, maintain and provide technologies for the preparation and production of printed, electronic and multimedia publications using computerized publishing and printing systems at enterprises, institutions and establishments of the publishing and printing complex of Ukraine in Kiev, other enterprises of the national economy of Ukraine. The final decision on the feasibility of establishing the department was made at several extended meetings of the Council of the Faculty of Printing "KPI" and a meeting of the educational and methodological association of printing, which took place in the spring of 1990. The meeting was attended by delegations of MDUD and UPI. Fedorov, directors of leading branch printing enterprises, other interested enterprises of Kyiv, representatives of the State Publishing House of the Ukrainian SSR.
The core of the teaching staff of the department in the first years of its existence were teachers of the Department of General Physics, Chemistry and Higher Mathematics KVF UPI. I. Fedorov, who moved to the staff of KPI and in 1989-1991 provided reading of professionally oriented courses at the Faculty of Printing for all existing (at that time six) specialties. Among them – the first dean of the Faculty of Printing in KPI, the first head of the Department of Reprography, Doctor of Chemistry, Professor of General Physics, now – Honored Worker of Science and Technology of Ukraine Anatoly Dorosh – the main initiator of the department and choosing its name.