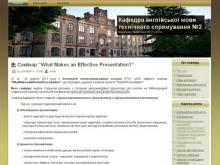 The Department of Technical English №2 was established in 2000.
Acting head of the subdepartment of the English language of technical orientation №2 -Iuliana Eduardivna Lavrysh,senior lecturer, candidate of pedagogic sciences.
Teachers are successfully teaching ESP at 10 faculties of the institute. There are roughly seven thousand five hundred students studying within the Department from the following faculties and institutes: Welding Engineering Faculty, The Institute of Telecommunication Systems, The Institute of Physics and Technology, The Faculty of Physics and Mathematics, The Institute of Mechanical Engineering, The Faculty of Aircraft and Space Systems, The Faculty of Chemical Engineering, The Faculty ofInstrument Design and Engineering,The Facultyof Physics and Engineering, The Institute of Military Communications.
The main areas of department's work are:
teaching English for Specific Purposes in corporating research and innovations;
providing consultations for students wishing to take part in students' olympiads and conferences, and those who prepare to defend their diploma works in English;

syllaband materials' development.
Teachers are doing their best to form and develop students' English communicative competence. Communicative approach, multimedia technologies and interactive strategies contribute to the achievement of B2 level, the standard for the bachelor's degree.