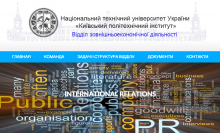 The head of the Department of international economic activity: Shysholin Andriy Pavlovych
Address: 37 Pobedy ave., Kyiv, 03056, Ukraine, camp. 1, aud. 259
Phone number: +38 044 236 62 81
e-mail: forea[at]kpi.ua
Department of international economic activity is a coordinative subdivision of International collaboration department of NTUU "KPI" provides the realization of Development international cooperation strategy of the university till 2020, concerning income from international cooperation of university.
Structure of the department: sector of customs escort, sector of informational and analytic escort, sector of international transfer of educational services, sector of joint educational and scientific structures abroad.
The main tasks of the department are:
participation in developing international economic activity of the university;
coordination of actions of subdivisions of NTUU "KPI" in the sphere of international cooperation concerning international economic activity;
studying the conjuncture of foreign market of educational services and formation a package of educational selling services of university with following organization and implementation of educational transferring services;
conducting dialogues with foreign partners;
coordination of creation and providing realization of events concerning organization and creation commercial presence of NTUU "KPI";
others.