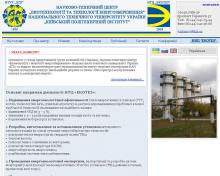 telephone: 204-98-95, 236-42-52
fax: 204-92-45
e-mail: ekotez[at]ukr.net
address: 03056, Kyiv, Av. Pobedy 37, building 6
The purpose of the STC "ECOTES" (Center) is an integration of the scientific and technical potential of the departments of the university, which aim is to solve pressing problems of the Ukrainian power industry. The salvation should be associated with rising energy and ecological security of energy facilities and energy saving systems, introductioning of environmentally friendly and energy efficient technologies, training and retraining of technical staff in this direction.
Main activities of the STC "ECOTES":
performance of research and development work on state enterprises and enterprises of other ownership on the priority areas of science and technology connected with the preparation of specialists;
implementation of R&D in the energetics and other industries with regard to the needs of internal and external market;
supervision of the implementation and usage of scientific and technological developments;
organizing and implementation of the training courses and advanced trainings in various areas;
organization of the laboratory, practical and other classes with students of various faculties and institutes of the university;
training and retraining of scientific, educational and engineering personnel with high qualification;
international cooperation within the framework of direct contacts and individual contacts with foreign partners;
participation in international grants and contracts;
implementation of promotional activities for the questions of the development, production and realization of cooperation on domestic and international markets;
organization of seminars, conferences, courses in the sphere of scientific and research work in the field of environmental safety processes, energy systems and energy-saving technologies;
implementation of copyright and scientific support of their own developments in production and implementation of power generation equipment, both on campus and beyond;
energy environmental audit of energy facilities;
development of documents that justify the emissions for businesses, institutions, organizations and businesses.
STC "EKOTES" performs research and development, provides the conditions for advanced scientific and technical training according to the priority areas of science and technics, that are included in state programs and university research programs.