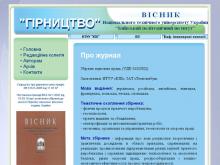 Collection of scientific researches (UDK 622(082))
Language: Ukrainian, Russian, English, German, French, Polish, Czech, Slovak.
Thematic scope of the collection:
Physical processes of mining;
Geotechnology;
Mining machinery and equipment;
Electrification and automation of mining operations;
Economics, organization and management, geoecology and labor protection.
Content of the collection - information on systemic patterns of disclosure processes and phenomena that occur during the development of mineral deposits to improve the technology and economics of mining with systematization and extensive discussion of the theoretical and practical knowledge in mining.
The policy of publication:
Politics of publishing includes the system of measures aimed at achieving the main goal. The main purpose of the collection is the publication of the results of research aimed at improving existing and developing new high-performance and energy-saving technologies, processes and equipment that meet the modern requirements of market production, involving scientists, teachers and students of mining professions and experts in mining companies.