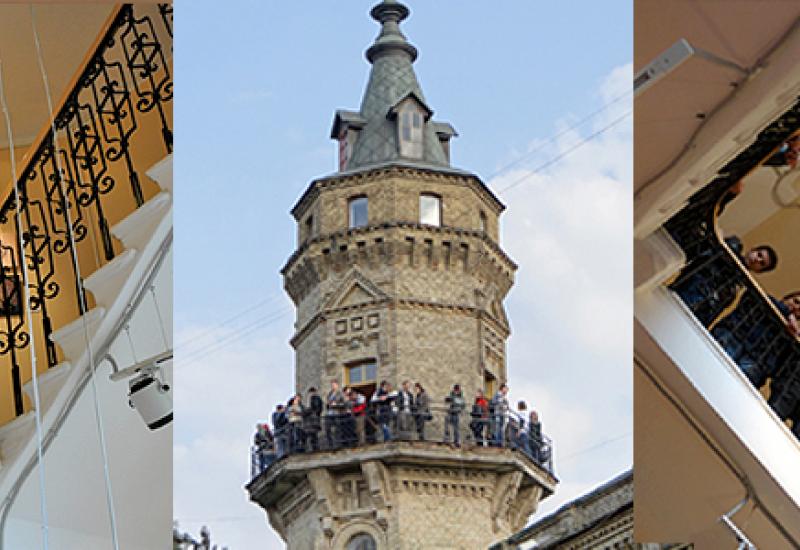 April 17 the Tower of the housing №1 of the National Technical University of Ukraine "Kyiv Polytechnic Institute" after reconstraction hospitably opened its doors.
From this day a gallery "Art Space  Tower KPI " is opened here.Works of art of students polytechnics will be on display at this gallery.
"I am very glad that student creativity will thrive in this interesting corner of the KPI. Our students are very talented. Now they will have a chamber, not very big, but a truly unique area, where their work will be presented - the University Rector Michael Zgurovsky said at the opening ceremony. I am grateful to the initiators of its inception, primarily Gennadiy Novikov, who literally "tormented" me (of course in a good sense) by this idea. He believed in its implementation, and I'm very grateful to him for his enthusiasm and initiative. I am also grateful to all members of the group who put it into practice. Congratulations to all with the opening of this center.  I wish to this project further prosperity and development ».
The story of the reconstruction of the tower began exactly a year ago, April 17, 2013, when the initiative group of polytechnics, composed of students and faculty members, decided to take part in the competition with an award 100,000 hryvnia from the company «Nescafe». This competition is not the first in the company's history: the sixth consecutive year «Nescafe» looking for interesting ideas and unexpected solutions, giving authors of the best of them cash rewards for their implementation.
Idea for the contest was a noble - to turn a dilapidated tower left of the main body of NTUU "KPI" in an art space. A lot of people liked the idea and it is due to the large number of votes cast for the project, it won the multistage voting contest.
Repairs in the premises of the tower were began immediately after the victory. Heaps of trash were removed, rooms were equipped with powerful convector heating, new windows were inserted, the floor coating was replaced, beams were renovated, main and background lighting
The first artistic event in the student art space was  photo exhibition "KPI look" (KPI through the prism of Instagram). Such exhibitions are planned to be organize regularly. Film viewings, meetings with interesting people and other cultural and educational activities will be held in the adjacent basement rooms in the future. A small balcony outside of the tower will be an observation deck.