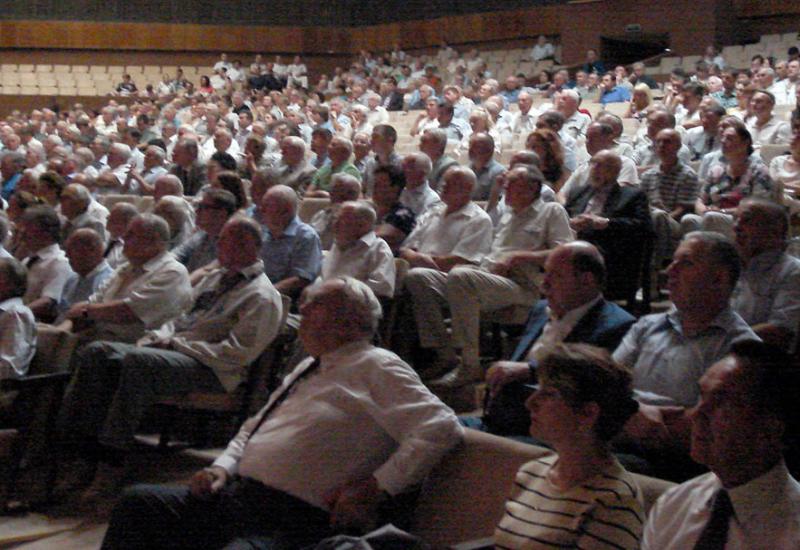 August 28, 2015 at the Center of Culture and Arts held regular annual "KPI" teaching staff session.
At the beginning of the meeting NAN academician Yuriy Yakimenko the first vice – principal of NTUU "KPI" warmly welcomed the participants of the 24 th anniversary of Ukrainian Independence and wished them success in the new 2015/16 academic year. Participants of the meeting have honored with a one – minute silence the memory of teachers and university staff passed away in the past academic year.
President of NTUU "KPI" and academician M. Zgurovsky appeared with a speech about the results of the team work in the 2014/15 academic year. He congratulated the students on the 117th anniversary of the KPI and noted that the past year was marked by dramatic changes and challenges. In particular, the conflict in the east part of our country extinguished lives of seven KPI - students, two of them were awarded the title "Hero of Ukraine". KPI has become home to more than 350 students from the Crimea and eastern regions. University team has joined the volunteer assistance in the war area and they have done their best for protecting our country.
In his report the rector informed about the main achievements of the University in the educational, scientific, international, economic activities and formulated tasks for the current academic year. It was said about the implementation of the Law "On Higher Education", translation into action an academic integrity, increasing the KPI participation in international projects and so on.(Complete text is on the pages 2 – 4).
In report discussing took part Professor S.O.Kudrya - Head of the KPI volunteer battalion. He conveyed the gratitude to the University staff from ATO soldiers for important and timely help; he also informed about new activities of volunteer battalion in hospitals and invited to take up the weaving camouflage nets in buildings.
After that Rector congratulated the winners of the annual "KPI" - contest for the best textbooks and monographs and presented them winner diplomas. Received awards: H.O.Kryvov and K.O.Zvorykin (first place), Y. F. Lazarev , P. M. Bondar and V. O. Shapovalov, I.V.Sheyko, H.O.Remizov (two second places). Diplomas "Outstanding leader of NTUU "KPI" were given to Y. M. Petrenko, B. V. Novikov.