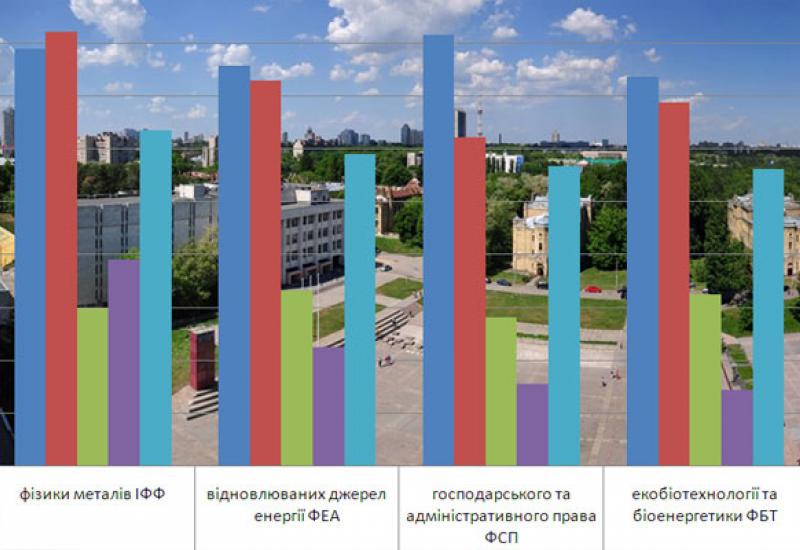 To take account of the results of the main activities of university departments Educational Department "KPI" held the third consecutive year ranking university departments on the methodology approved methodical council "KPI".
The main components in determining the rating are the following directions of the department: training (A1), scientific and pedagogical potential (A2), research and innovation (A3), international activities (A4), each component part of the overall ranking with their weight ratio (A1 - 0.4, A2 - 0.25; A3 - 0.25; A4 - 0.1).
In determining component A1 Rector used the results of monitoring, state certification and external evaluation of the quality of training; A2 - ranking teaching staff (NPP) and the human resources department; A3 - scientific activity, the effectiveness of research and training of scientific personnel department; A4 - International activity Academic mobility and quality of the site of the department. In general, to determine the overall ranking uses 45 indicators of the department, received by the Educational Department of the selection committee of university, Department for Education, Institute of Education Quality Monitoring, AIS 'rating NPP ", Department of Science and Innovation, Department of International Cooperation, SIC Applied Sociology" SocioPlus "personnel department and archives, department of information.
With a view to the overall ranking of departments (training engineers and nevypuskovyh) Methodological Council decision "KPI" departments decided to set nevypuskovym average of the component A1 (training). Thus, ranking university departments for performance in 2014 was held for 129 university departments, 17 of which are nevypuskovymy.
For the second year in a row rankings were Department: Physics of metals IFB, ecobiotechnology and bioenergy FBT, management FMM. However, even provide the average value of the most important component A1 (training) did not affect the position of some outsider nevypuskovyh departments.
The results of the rating was considered at a meeting of Methodical council, which decided to recommend to the heads of departments to analyze the results of rating discuss at meetings of departments, academic councils of faculties (institutes) and up to 18 June 2014 submitted to the Educational Department proposals to improve methods of ranking units .
Place
Department
Composite rating
Overall rating
А1
А2
А3
А4
1
Metal Physics IFF
0,789
0,820
0,299
0,390
0,635
2
renewable energy sources FEA
0,757
0,728
0,332
0,225
0,590
3
Administrative and Civil Law FSP
0,816
0,622
0,282
0,156
0,568
4
ecobiotechnology and bioenergy FBT
0,736
0,687
0,324
0,144
0,562
5
information and telecommunication networks IST
0,746
0,782
0,143
0,183
0,548
6
management FMM
0,740
0,635
0,202
0,411
0,547
7
instrumentation and control systems aircraft FAX
0,662
0,600
0,232
0,666
0,540
8
International Economics FMM
0,714
0,643
0,225
0,337
0,536
9
acoustics and akustoelektroniky FEL
0,748
0,574
0,322
0,061
0,529
10
Economics and Business FMM
0,778
0,551
0,219
0,212
0,525
11
physical and technical protection of information PTI
0,786
0,642
0,144
0,104
0,521
12
Technology inorganic substances and general chemical technology HTF
0,749
0,655
0,186
0,113
0,521
13
ITS telecommunications
0,705
0,589
0,338
0,070
0,521
14
bioinformatics FBT
0,741
0,599
0,266
0,071
0,520
15
chemical, polymer engineering silicate i IHF
0,663
0,719
0,244
0,111
0,517
16
Instrument Making PBF
0,756
0,570
0,193
0,170
0,510
17
Thermal Engineering and Energy Efficiency IEE
0,715
0,599
0,252
0,102
0,509
18
Instrumentation Design and Engineering PBF
0,599
0,703
0,318
0,100
0,505
19
microelectronics FEL
0,637
0,521
0,435
0,100
0,504
20
Integrated Technology Engineering MMI
0,737
0,531
0,195
0,214
0,497
21
surface engineering FS
0,694
0,592
0,199
0,222
0,497
22
organic chemistry and technology of organic substances HTF
0,789
0,469
0,192
0,164
0,497
23
physical and chemical bases of technology metals IFB
0,713
0,635
0,135
0,164
0,494
24
automation of experimental studies FAX
0,675
0,518
0,340
0,083
0,493
25
VPI technology printing production
0,703
0,538
0,276
0,065
0,491
26
theory, practice and translation of English PL
0,726
0,549
0,206
0,123
0,491
27
Mathematical modeling of economic systems FMM
0,815
0,507
0,096
0,130
0,490
28
Energy Systems Physics PTI
0,701
0,673
0,152
0,018
0,489
29
electrochemical production technology HTF
0,701
0,599
0,184
0,113
0,488
30
biosecurity and health FBMI
0,724
0,574
0,166
0,091
0,484
31
Physical Chemistry HTF
0,701
0,439
0,361
0,011
0,481
32
VPI reprography
0,760
0,551
0,129
0,072
0,481
33
Technical Cybernetics FIVT
0,767
0,463
0,194
0,086
0,480
34
optical and optoelectronic devices PSF
0,717
0,537
0,182
0,121
0,479
35
biomedical engineering FBMI
0,732
0,612
0,086
0,109
0,478
36
nuclear power stations and thermal physics engineering Teff
0,763
0,526
0,126
0,099
0,478
37
design tools and machines MMI
0,713
0,584
0,145
0,101
0,478
38
Technology and Electrophysics high voltages FEA
0,734
0,541
0,098
0,233
0,477
39
theory and practice of translation French FL
0,693
0,518
0,210
0,139
0,473
40
Dynamics and Strength of Machines and Strength of Materials MMI
0,696
0,567
0,157
0,134
0,473
41
Publishing Management, Printing and Bookselling VPI
0,703
0,578
0,176
0,029
0,473
42
Mathematical Methods of System Analysis IASA
0,723
0,553
0,134
0,101
0,471
43
Environmental Engineering IEE
0,678
0,560
0,208
0,076
0,471
44
electromechanical equipment energy-intensive industries IEE
0,712
0,532
0,171
0,092
0,470
45
automation control Electrical complexes IEE
0,705
0,477
0,235
0,093
0,469
46
Automation of electromechanical systems and electric FEA
0,768
0,472
0,126
0,108
0,467
47
Cybernetics of Chemical Technology Processes HTF
0,656
0,500
0,241
0,194
0,467
48
design of computer hardware FEL
0,722
0,492
0,152
0,172
0,467
49
Design Automation of energy processes and systems Teff
0,769
0,517
0,068
0,117
0,466
50
psychology and pedagogy FAT
0,701
0,580
0,131
0,073
0,465
51
Applied fluid and mehanotroniky MMI
0,679
0,549
0,179
0,108
0,465
52
mathematical analysis and probability theory FMF
0,640
0,599
0,209
0,063
0,464
53
descriptive geometry, engineering and computer graphics FMF
0,701
0,486
0,230
0,033
0,463
54
telecommunication systems ITS
0,699
0,558
0,150
0,060
0,462
55
heobudivnytstva and hirnychyh Technologies IEE
0,623
0,626
0,197
0,075
0,462
56
MMI technology engineering
0,692
0,525
0,127
0,206
0,460
57
radio construction and production of electronic equipment RTF
0,677
0,534
0,203
0,052
0,460
58
electrical networks and systems FEA
0,736
0,507
0,135
0,051
0,460
59
Audio Engineering and registration information FEL
0,668
0,507
0,150
0,270
0,458
60
software computer systems FPM
0,713
0,531
0,046
0,284
0,458
61
Industrial Biotechnology FBT
0,676
0,537
0,170
0,060
0,453
62
Power Supply IEE
0,694
0,493
0,153
0,142
0,453
63
biomedical cybernetics FBMI
0,679
0,544
0,166
0,027
0,452
64
Mechanics plasticity resource materials and processes MMI
0,700
0,496
0,159
0,054
0,449
65
Electromechanics FEA
0,728
0,491
0,109
0,079
0,449
66
Pure and industrial heat Teff
0,709
0,439
0,174
0,118
0,448
67
Foundry of Ferrous and Nonferrous Metals IFF
0,756
0,432
0,117
0,086
0,448
68
Theoretical and Applied Economics FMM
0,701
0,474
0,161
0,083
0,447
69
Ecology and Technology of Plant Polymers IHF
0,708
0,485
0,130
0,106
0,447
70
Physical and Biomedical Electronics FEL
0,687
0,437
0,201
0,125
0,447
71
industrial marketing FMM
0,694
0,456
0,149
0,173
0,446
72
information law and intellectual property rights FAT
0,701
0,515
0,118
0,072
0,446
73
laser technology, physical and engineering technologies MMI
0,662
0,553
0,130
0,095
0,445
74
theory, practice and translation of German FL
0,689
0,481
0,161
0,063
0,442
75
English Language of Humanities Orientation № 3 FL
0,701
0,559
0,055
0,043
0,438
76
Industrial electronics FEL
0,691
0,403
0,190
0,134
0,438
77
chemical engineering composite materials HTF
0,750
0,414
0,123
0,027
0,437
78
of Welding FS
0,691
0,489
0,082
0,177
0,437
79
biotechnology and engineering FBT
0,661
0,575
0,114
0,0001
0,437
80
Orientation and Navigation Instruments and Systems PBF
0,680
0,449
0,167
0,102
0,436
81
High Temperature Materials IFF
0,642
0,459
0,141
0,291
0,436
82
aparativ machinery and chemical and petroleum industries IHF
0,704
0,448
0,142
0,063
0,435
83
overall i experimental physics FMF
0,679
0,462
0,171
0,045
0,434
84
English technical direction №2 FL
0,701
0,484
0,111
0,042
0,434
85
Applied Mechanics MMI
0,701
0,476
0,119
0,036
0,433
86
theoretical bases of radio engineering RTF
0,672
0,423
0,209
0,053
0,432
87
Theory and Practice Management FSP
0,636
0,568
0,091
0,123
0,431
88
FEA automation power systems
0,697
0,407
0,130
0,182
0,431
89
Theoretical Mechanics FAX
0,701
0,480
0,081
0,096
0,430
90
Electric Welding Installations WELD
0,678
0,513
0,047
0,189
0,430
91
system programming and specialized computer systems FPM
0,678
0,507
0,098
0,072
0,430
92
history FSP
0,701
0,444
0,117
0,079
0,429
93
machines and aggregates production VPI polygraphy
0,689
0,513
0,068
0,078
0,428
94
cpravy publishing organization, and distribution VPI Polygraphy
0,730
0,408
0,115
0,052
0,428
95
public law (legal theory and State) FSP
0,701
0,467
0,083
0,090
0,427
96
English technical direction №1 FL
0,701
0,472
0,089
0,057
0,427
97
Information Security PTI
0,663
0,535
0,079
0,049
0,424
98
chemical technology of ceramics and glass HTF
0,727
0,456
0,037
0,091
0,423
99
Applied Mathematics FPM
0,684
0,412
0,147
0,090
0,422
100
i automation management in technical systems FIVT
0,646
0,522
0,105
0,069
0,422
101
Theoretical Electrical Engineering FEA
0,701
0,458
0,079
0,063
0,421
102
Automation of chemical production IHF
0,700
0,422
0,070
0,162
0,419
103
metallurgy and thermal treatment IFB
0,677
0,482
0,085
0,047
0,417
104
Ukrainian Language, Literature and Culture FL
0,701
0,473
0,038
0,083
0,416
105
Computer Science FIVT
0,706
0,395
0,074
0,161
0,416
106
sociology FSP
0,694
0,444
0,073
0,072
0,414
107
Scientific, analytical and ecological devices i of PBF
0,587
0,530
0,159
0,065
0,414
108
thermal power plants thermal and nuclear power plants Teff
0,644
0,503
0,100
0,022
0,410
109
Automated Information Processing Systems and management FIVT
0,767
0,343
0,035
0,075
0,409
110
Heat and Power Engineering Processes TEF
0,706
0,407
0,063
0,081
0,408
111
Mathematical methods of information security PTI
0,648
0,483
0,098
0,0002
0,405
112
radiopryymannya and signal processing RTF
0,695
0,379
0,103
0,053
0,404
113
Applied Physics PTI
0,697
0,354
0,125
0,044
0,403
114
FMF mathematical physics
0,671
0,473
0,046
0,042
0,402
115
Information and Measurement technique FAX
0,672
0,364
0,132
0,094
0,402
116
labor protection, industrial and civil security IEE
0,701
0,403
0,056
0,050
0,400
117
philosophy FAT
0,701
0,390
0,058
0,048
0,397
118
FEA power plants
0,695
0,347
0,109
0,041
0,396
119
System Design IASA
0,668
0,289
0,143
0,149
0,390
120
sports perfection FBMI
0,701
0,394
0,026
0,028
0,388
121
General and Theoretical Physics FMF
0,710
0,327
0,071
0,047
0,388
122
overall i Physics Solid State Physics FMF
0,711
0,298
0,079
0,091
0,387
123
electronic devices and appliances FEL
0,623
0,431
0,073
0,082
0,383
124
wireless devices and systems RTF
0,621
0,400
0,138
0,000
0,383
125
Graphics VPI
0,672
0,378
0,030
0,082
0,379
126
Non-Destructive Testing Instruments and Systems PBF
0,641
0,406
0,034
0,127
0,379
127
Differential Equations  FMF
0,601
0,427
0,113
0,032
0,379
128
General and Inorganic Chemistry HTF
0,701
0,350
0,031
0,029
0,378
129
physical education FBMI
0,701
0,319
0,058
0,0001
0,375