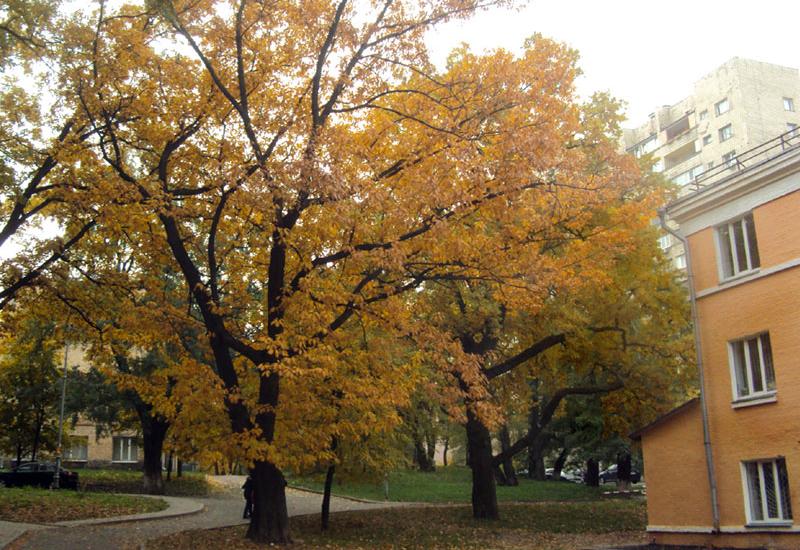 Among the oldest and most respected trees of Ukraine there are many oak trees older than 300 years (only 8 of them are older than 1000 years).The legends tell about them. These trees are witnesses of important historical events are associated with reliability and steadiness.  Scientists count almost 260 species of this plant. The KPI Park can also boast of the beautiful centenary oak trees.  In particular here grows the oak ordinary of various forms, red and pin.  The last is not the frequent guest in plantation, because it has shallow root and loves moist soil, but in our park remained two such oak trees and they are very old.
Decorative effect of red and pin oak trees is indisputable. In spring they attract people by their young reddish-brown hanging-down shoots. Beautiful carved leaves which are especially effective in autumn: red, yellow and ochreish. It grows on branches a long time, reminding about autumn flourishing of flowers. It is better to observe branchy graphics of krone in the winter: sometimes branching out of it seems sharp and clumsy because of change of the direction of growth of shoots which are developing only on the shined surface. It is interesting that the tree can grow in height till 150-200 years and in width during all the life. Its leaves can reach 12 cm with deeply cut out lobes, from above - bright green, from below it is lighter. Fruits are almost spherical, with a diameter up to 1,5 cm, on a third they are covered with "hat" and  ripen in August. Acorns are carried by a wind, animals and water. Jays, pigeons, pheasants, squirrels, field mice and other rodentia "transport" fruits on considerable distances. They lose them on the road and forget about stores which then sprout.  In mountainous areas rivers and streams act as "carrier".
Pin oak tree in Latin is called Quercus palustris and in Ukrainian - Дуб болотяний. In English "pin" means a peg, the name received because of sharp fragments, which remain on a smooth trunk after dying off of the bottom branches. Natural areal of a plant is temperate and torrid zones of the Northern hemisphere. There are absolutely no oak trees in Australia; practically there are no oak trees in South America and Africa (except northern regions). In "deprived" Siberia and Central Asia there are no indigenous species.
The most valuable in the oak is wood, which is used for strong, firm, resilient structures that are resistant to unfavourable exogenous factors in shipbuilding, aviation industry, transport, building industry, furniture trade etc. In addition to that, oak wood is excellent fuel, which heat conductivity is increasing proportionally to the strength of the wood. In some Mediterranean species acorns are not only edible, but also very delicious. In Portugal, Spain, Italy, Greece, Turkey and Algeria people can enjoy dishes made of acorns. In China the leaves are reared to silkmoth and are used as fertilizer.
Americans love their history and they are proud of the old military ship that still afloat - a 44-gun frigate "Constitution", which was heaved off in 1797. Its cost for that time was commensurable with the cost of present aircraft carriers. The sailing vessel successfully protected merchant ships from pirates in the Mediterranean Sea and the Caribbean Basin. The most memorable victory it gained over an English 38-gun sailing vessel "Guyeryer" on August 9, 1812 in shore of Canada. To surprise of British, the balls sprung off from the American ship. British didn't know that its half-meter thickness of a board had a three-layer structure: from above and from the inside was stave oak, and inside – pin oak. Thanks to the special structure (it grew in flood plains) it didn't break to pieces, from which mainly died sailors, and being bent, it canceled shock action and stopped the balls. After fight the name Old Iron Side was assigned to a frigate. In XIX century the sailing vessel served as an educational vessel and since 1934 is in Boston on eternal parking. During some solemn occasions "Constitution" in all the beauty lays out. For example, in summer 2000 the frigate welcomed participants of a transatlantic sailing regatta "Millennium". And all this is thank to the pin oak.