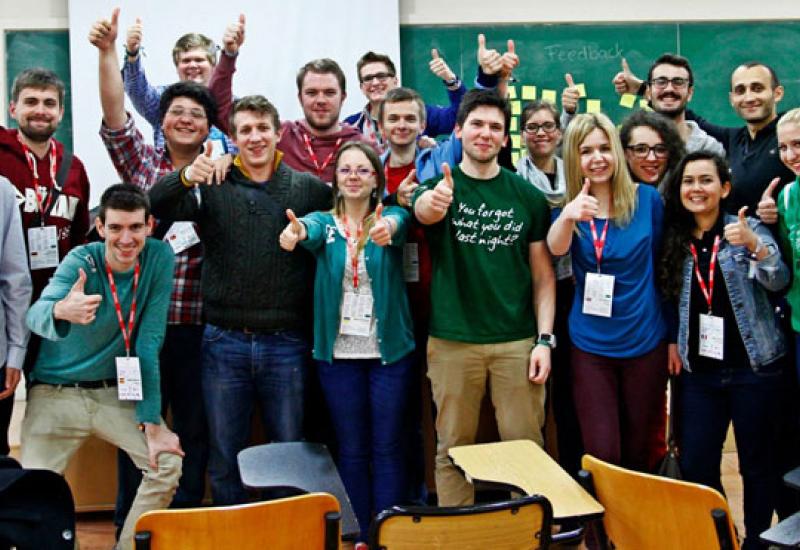 On April 22-26th 2014, the regular  student's meeting organization ESTIEM (European Students of Industrial Engi­neering and Management), took place in the capital of Turkey, Istanbul, in which the representatives of 60 countries in Europe and Asia participated. The participants shared the results of the past six months activities, were discussing news and planning future projects. The  Kyiv local delegate group took part at the meeting, which was based in NTUU "KPI" (Faculty of Management and Marketing students Sergiy Zelenko, Tatiana Kaystrenko, Alona Dovzhenko and Institute of the applied system analysis's student – Dmytro Yovchev).
To everyone such meeting, occurring twice a year, the ESTIEM Magazine is published in which life of ESTIEM and cooperation with other organizations is described. This year our Kiev local group article was placed for the first time on its pages .  The article's author Natalia Rozkladka (student of Faculty of Management and Marketing, KPI) submitted the Trainers on Tour report which the local delegate  group was organized. Within this action the trainings directed on  skills improvement, connected with art presentation , the   various project organization and works in team, behavior coordination in collective were provided, and also cooperation questions with the known consulting companies and investments in student's projects were considered. Students who participated in these trainings have received helpful advice and interesting experience in economics, particularly in marketing and management.
Next year it is planned to carry out the Vision project which will include a series of the seminars connected with technical specialities. The food industry will be discussed, also we invite to cooperation   other faculties , particularly students of  Faculty of Chemical Engineering, Faculty of Chemical Technology, Faculty of Biomedical Engineering. Join us and develop together with ESTIEM!