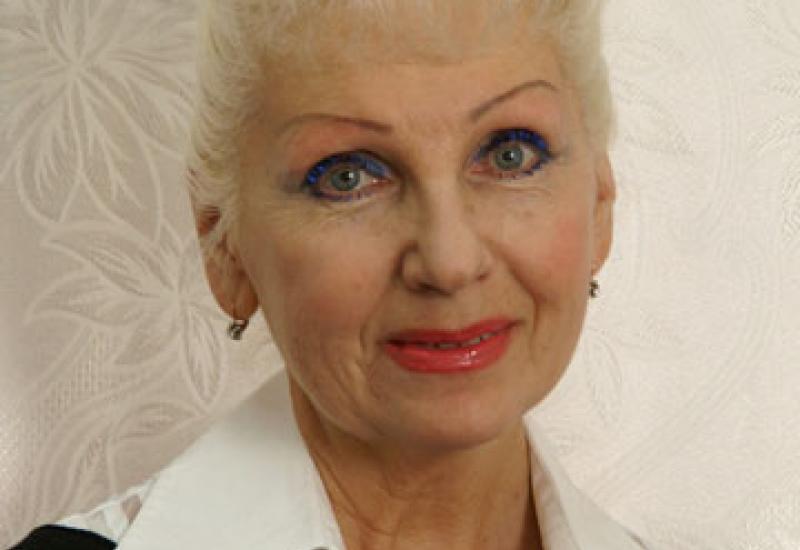 Meeting Olena Mykolayivna Bezvesilna, one wants to say - "how fine and inspired your faces are, KPI!". Doctor of technical sciences Olena Mykolayivna Bezvesilna is a professor of the Department of Instrument Design, former head of the Ministry of Science and Education's Chief Accreditation Authority, a Honored Scientist of Ukraine and Honored Professor of NTUU "KPI", a fellow of the Engineering Sciences Academy of Ukraine, the New York Academy of Science, etc. Always friendly and attentive, Olena Mykolayivna is a renowned professional in her field, while still remaining a beautiful woman. She received honorary distinctions from the MSE of Ukraine - "For Scientific Achievements", "Excellence in Education", honorary diplomas from NTUU "KPI", thanks from the Head of Kyiv City State Administration, et cetera. To receive so much honors is truly the province of a distinguished woman.
Beginning her scientific career as a student of the Kyiv Polytechnic, O.M. Bezvesilna always held true to the path she chosen. From her days as a student she's been enamoured with her profession. Back in the day, lectures were held by famous instrument design experts from Leningrad and their pupils from KPI. The spark of their talent enkindled love to the profession not only in the future researcher, but also in many other talented creators and organizers of Ukraine's industry, science and education. The world-renowned school of gyroscopists was created in NTUU "KPI" from doctors of technical sciences – department heads and professors; among their number were O.V. Zbrutskyi, V.V. Karachun, V.S. Didkovskyi, O.M. Bezvesilna, L.M. Ryzhkov, L.M. Helman et al. Every one of them is now a famous personality and founder of their own scientific schools.
Since 1972 and today Olena Mykolayivna Bezvesilna is working at the Department of Precise Mechanics, today known as the Department of Instrument Design of NTUU "KPI". She headed the department from 1992 till 2001.
Olena Mykolayivna's scientific achievements are dedicated to fundamental and practical questions of gyroscope and navigational devices' mechanics, dynamics of aviation electromechanical systems. She chairs the Special Council for Defense of Doctors' and Candidates' Theses. She was recognized as KPI's premiere engineer and researcher in 2006, 2007, 2008 and 2009. She is an author of 576 scientific papers, including 15 monographies, 9 textbooks and 8 educational guidebooks certified by the MSE of Ukraine, 29 patents and author's certificates. Information about her is included in global reference books "Who's Who in Ukraine", "Names of Ukraine", "Women of Ukraine", "Kyivites", "Who's Who in the World", "Famous People of the 20th Century".
All of Olena Mykolayivna's works are in the fields of instrument design, mechanics and instruments for measuring mechanical values. She got important results in fundamental and practical problems of gyroscopes and navigational instruments' mechanics'; dynamics of aviation electromechanical systems. She formed a new branch in mechanics – theory and development of new aircraft automated gravimetric systems, new computer technologies for discovering Earth's natural resources and correction of inertial guidance systems.
At the start of the new year we asked Olena Mykolayivna how she sees our university in the future: "I'm certain that our glorious KPI has a bright future ahead of it. It will be a science and education megapolis with developed and precise infrastructure: buildings equipped with modern laboratories, build to modern standards; first-grade prototyping for exploring new ideas; library with all the modern information connections and possibilities. A modern scientific, technological, economical and creative centre of individual formation – of Ukrainian youth". We sincerely believe that due to colleagues such as Olena Mykolayivna Bezvesilna, the Kyiv Polytechnic will soon really reach that level.