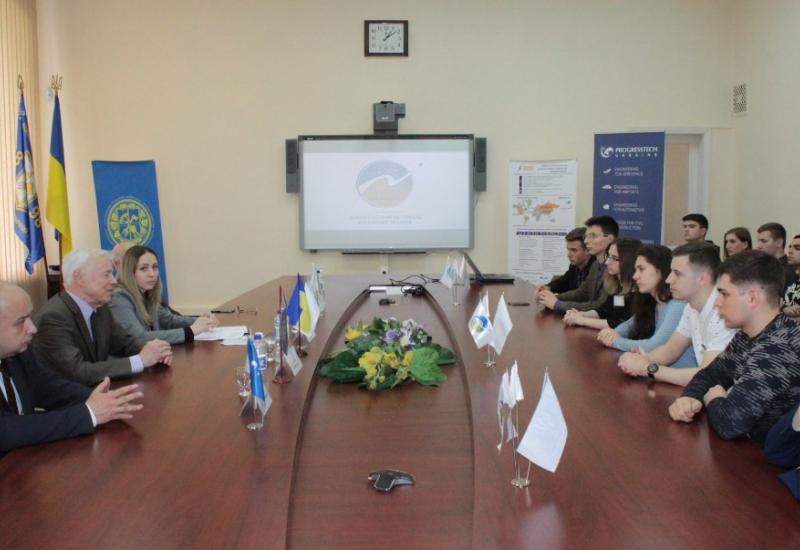 May 15 in Igor Sikorsky Kyiv Polytechnic Institute began the third round of the All-Ukrainian Festival of Engineering Talents "Future of Ukraine 2019".
This festival is held for the second time. Its organizers are the St. Volodymyr Charitable Foundation and the Association of Rectors of Higher Educational Institutions of Ukraine with the participation of Progresstech-Ukraine, Tukana Engineering Ukraine and Boeing Ukraine. The main goal is to promote the development of engineering education, promotion of the profession of engineer, search, promotion and support of creative, talented young people, who plans to link their future with engineering activities.
The festival is held in three rounds: the first one is online testing of basic disciplines and English. The second one - online or full-time (in different cities in different ways). Implementation of the complex engineering task requiring knowledge of fundamental natural and basic engineering disciplines, creative approach and non-standard thinking. The third one, which lasts for three days, will be executed by teams of non-trivial engineering tasks, individual presentations of participants in English and defense of projects developed by teams before competitors and expert commission.
This year, the festival was attended by students of natural and engineering specialties from 27 universities and colleges of Ukraine - just about two and a half hundred young people. The second round left 90 participants. 30 of them reached the final. They are divided into 5 teams whose members will work together on tomorrow's final task. Presentations and protection of their projects will be held on the last day of the festival on May 17.
The finalists were congratulated by the Director of the Charity Fund of St. Volodymyr Oleksandr Martynenko, the first vice-rector of the Igor Sikorsky Kyiv Polytechnic Institute, Academician of the National Academy of Sciences of Ukraine Yuriy Yakimenko, Director of the "Progresstech-Ukraine" company Andriy Fialkovskiy and director of the company "Tukana Engineering Ukraine" Miroslav Krekota.
"Future of Ukraine" is not just the name of the competition. This is his essence. We are trying to find truly creative, creative young people who acquire engineering professions, and which will depend on the development of scientific and technological progress in Ukraine",- said Yuriy Yakimenko.
The prizes and diplomas of the festival are waiting for the winners. They have the opportunity to establish close cooperation with the leading scientific and engineering schools of the country, the opportunity to present their work at the International Festival of Innovation Projects "Sikorsky Challenge", which is held annually in the Igor Sikorsky Kyiv Polytechnic Institute, additional points at the entrance to the KPI magistracy in the respective directions of preparation. In addition, the ten who are best recognized are a trip to the United States, where they will visit Boeing Aircraft Plant in Seattle.
Summing up and announcing winners will take place on May 17.
On the photo: Yuriy Yakimenko congratulates the participants of the competition