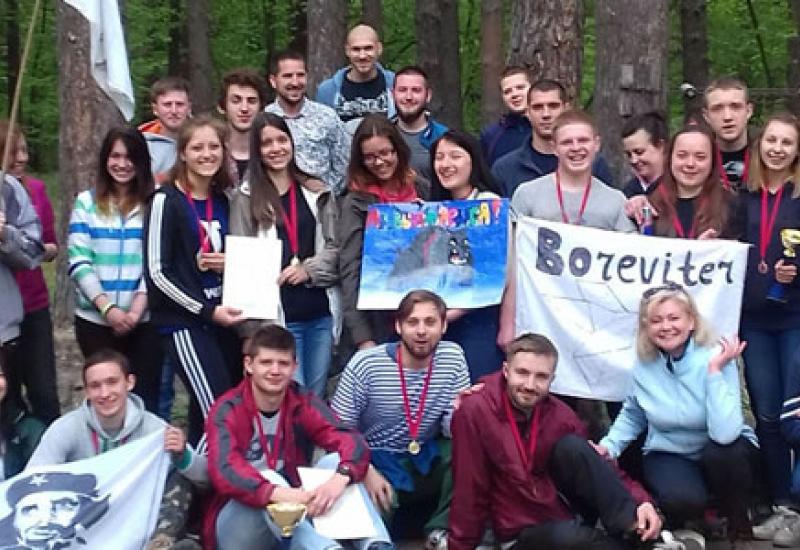 You can find many epithets: favorite, long-awaited, funny, unpredictable, heated, dedicated - and all this will be about it - "Labyrinth". So, again on the shore of the Kyiv Sea, on a magnificent base "Polytechnic", May 20-21, the spring season of the sports and intellectual game "Labyrinth" took place. As always, these days were full of interesting, fascinating and sometimes extreme events. Even the fans reacted with tornado of emotions, and the students - the participants of the game - completely immersed in its peripetias , sometimes even in the mud, as it was required by the rules of the competition, and felt the consequences of passed stages on their hands, legs, heads, etc.
For someone it wasn't t the first competition, and they overcame stages of the game quite easily and habitually, and some had to tame their fears and do what they didn't even expect from themselves. There was a feeling of friendly team spirit and support. The students of different faculties competed side by side for the title of the best. Rich program left no one indiffrent.
In addition to the pleasure of the game, there was a good mood, and a friendly company, a bonfire till the morning, a tasty meal in hike conditions, starred sky, guitar songs, romantic atmosphere, candles on the beach as links to other worlds and civilizations. The weekend came out quickly, as well as the game, but impressions and memories will remain for a long time. Returning home, students were emotionally rich, filled with new experiences, satisfied with the results of the game and unforgettable weekend. Wait for us, the next "Labyrinth", our sea, our "Polytechnic", the next fall.