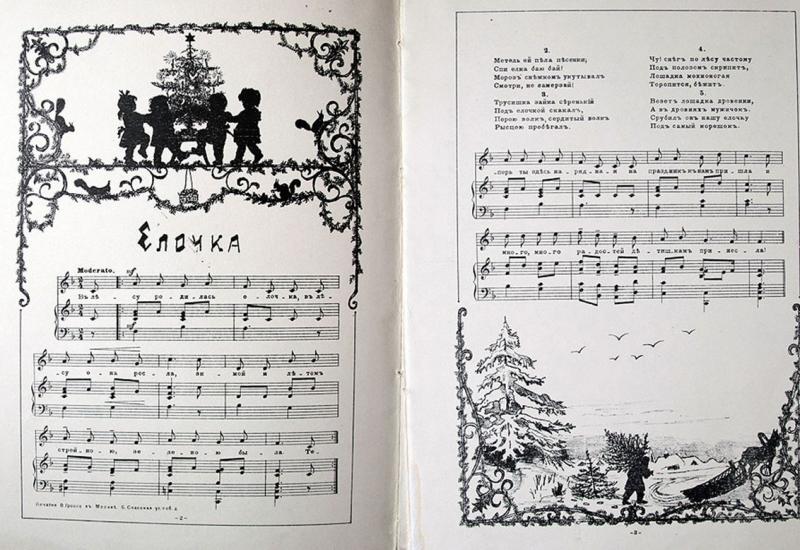 A small fir seedling growing
Somewhere in the wood,
It was evergreen an' beautiful,
Its cheer was always good.
                         A lullaby was being sung
                         By whirling snowstorm,
                         The frost did never hurt the fir
                         For it was covered warm.
A frightened hare running by
Past little green fir tree,
A wicked fierce big grey wolf
Was hunting it to eat.
                         One day an old peasant man
                         Appeared in the wood.
                         He cut the best New Year tree,
                         He said: "This one is good!"
And now it's in the party hall
With garlands, candles lit,
With lots of sparkling stars and balls.
Let's dance around it!
The simple words of this original Christmas anthem everyone knows. And will only sound familiar melody in the memory once there are bright lights, confetti and party poppers, fun and laughter, gifts from Santa Claus and Snow Maiden, as well as welcome, especially in winter, fragrant aroma of apples, tangerines and oranges. It seems that this song was always, as not only we, but our parents and our parent's relatives as a child under it drove the celebratory dances around the decorated forest beauties. Sometimes this song was considered attractive. But it's not. In these immortal lines has a real author.
...On the eve of 1904 in an edition of the Moscow children's magazine "baby" came a young woman and handed it to the editor sheet of paper with fine print calligraphy – a verse of his own composition. After running a knowing glance at the lines, the editor immediately accepted the poem for publication.
Just a few days, many subscribers of the magazine "baby" for the first time read the poem "the Tree" at the end of which stood the mysterious letters "A. E.", behind which the author of this sweet masterpiece (1878-1964). So began the incredible history of Christmas evergreen "Christmas tree", which was born in 1903 in one of the Moscow apartments.
Raisa Adamovna Kudasheva – the Belarusian-Lithuanian Princess of the family Giedroyc, was born 3 (15, new style) of August 1878, in the family official post office of Adam I. Giedroyc and his wife, Sofia Semyonovna. He studied at the Moscow female grammar school of M. To.Pussel.
The Raisa wrote verses from childhood. When she turned eighteen, she decided to send in "baby" her poem "the Brook". And it was printed. The success inspired the girl, and his long life, beginning with that memorable, 1896, she wrote for children.
On the pages of magazines "Firefly", "snowdrop", "Sun", "baby" Raisa Adamovna has published some two hundred short stories, songs, and fairy tales: "the three-Restrepo", "sled-samochody", "Trouble cock", "Granny Zabavushka Boom and a dog"... I Wonder that all the works she signed aliases: "A. E.", "A. er.", "K. G." – the surprising modesty. Known for her words: "I didn't want to be known, but not write, could not."
...Suddenly the father died and was forced to earn a living. In 1902 she became the governess of the son of Prince Alexei Ivanovich, Alexey Kudashev. After some time, Raisa Adamovna and Alexey got married.
Raisa Kudasheva continued to write poetry. Special love kids enjoyed his poetry book "Grandmother Zabavushka..." (1906).
У бабушки-Забавушки
Собачка Бум жила,
Однажды Буму бабушка
Пирожных испекла.
 
– На, Бум, бери тарелочку,
Пойдём с тобой в буфет...
Глядят, а мышки съели всё,
Пирожных больше нет...
An outstanding actor and Director of theatre and cinema, people's artist of USSR, Hero of Socialist Labor Mikhail Ivanovich Zharov (1899-1981) recalled that in his childhood he was very fond of this tale, often depicted the Boom and jokingly called this game his first role.
Still, the main work of Raisa Kudasheva became her "Tree".
Interestingly, Kudasheva was not even familiar with this person, who wrote the music to her poem about the Christmas tree – Leonid Karlovich Beckmann (1872-1939), who was not a composer, and scientist – biologist and agronomist, PhD. Perhaps not the last role in the musical abilities of Leonid Karlovic played his wife – a famous pianist, Professor of Moscow Conservatory Elena Aleksandrovna Beckman-Shcherbina (1882-1951).
In the early 1960-ies published a small booklet with the memories of Elena Alexandrovna, which describes the melody of "Ellochka": "17 October 1905, my daughter Vera turned two, and I gave her "living doll" – a sister Olga, who also was born on October 17. Vera was overjoyed. While I was still lying, Leonidas once sat at the piano, put Vera on his knees and wrote her a song to the words of the poem "Tree" from the children's magazine "baby". Vera, who had excellent hearing, it quickly learned, and, not to forget a song, I wrote the notes down because the author was "musically illiterate". Later we both began to write for children and other songs, and not to rewrite them without end for our friends, decided to publish a collection with drawings, silhouettes, similar to famous drawings böhm. So there was our collection of "Verochkina songs" that within a short period of four editions. The song was a great success and received the approval of Sergey Taneyev, the sisters Gnesin, Alexander Scriabin, and especially Sergei Rachmaninoff, who once when they met at the concert, he asked: "Why do you write so little? You have such lovely songs!" A "Tree" and singing today all the children and few people know that this song, which became popular, not composed, the musician, and the candidate of Natural Sciences and agronomist!"
Later Vera Beckman has devoted his life to music, he worked as Deputy Editor of the music section of Union radio.
But back to Kudashevo.
In 1914 began the First world war. Son Alex ran to the front, and his father sixty years the excitement fell ill and soon died – has not sustained heart. After a while, the message came and on the death of Alesha. Next was the revolution of 1917 when Princess Kudashev lost everything including the house, confiscated by the new government. She began her new life when it was necessary to hide its "bourgeois" past. In the end, she managed to get to the district library, where she worked until 1941.
...Being a lonely old man, Kudasheva came with a request for help to the Chairman of the Union of Writers of the USSR Alexander Alexandrovich Fadeyev (1901-1956). Fadeev was asked to remind him that some of her poems. And when I heard: "the forest raised a Christmas tree", was surprised: "So You wrote this?" Raisa Adamovna provided all possible assistance. Namely..Fadeev belongs to the words spoken in the address of Raisa Adamovna: "Her poems are so popular that our poets never dreamed of".
Kudashev became famous. However, fame and recognition came too late. Only in 1957, when Raisa Adamovna was 79 years old, he published the first book of her poems. "I try to be secured and not to lose heart, wrote Kudasheva in one of his letters, but still I think about myself: not able to doing the thing, too late this story came to me." At the end of 1950-ies was published two interviews with the poet: one in the magazine "Ogonek", and the second in the "Evening Moscow".
Kudashevo compared with Cascara. "Spark looks," wrote: "With snow-white hair, a friendly smile, the glasses through which we look lively eyes, sounds like a good grandmother from a fairy tale". The secret of her "Ellochka" her longevity in a very fine emotional mood, solemn and elegiac, celebratory and a little sad."
Recent years, Raisa Adamovna lived together with his sister. She died on 4 Nov 1964. Subsequently, there are new holidays, and existing ones become the usual routine, but with full confidence we can say – more than one generation will celebrate the New year and Christmas, the main symbol will remain coniferous forest beauty, around which children will dance under the unpretentious, but so familiar song about the Christmas tree!
* * *
Sing about the Christmas tree in Ukrainian. The older generation remembers the song "In the forest, a forest dark..."
У лісі, лісі темному,
Де ходить хитрий лис,
Росла собі ялиночка
І зайчик з нею ріс.
 
Ой, снігу, снігу білого
Насипала зима.
Прибіг сховатись заїнько –
Ялиноньки нема!
 
Ішов тим лісом Дід Мороз,
Червоний в нього ніс,
Він зайчика-стрибайчика
У торбі нам приніс.
 
Маленький сірий заїнько,
Іди-іди до нас!
Дивись – твоя ялиночка
Сія на весь палац!
The author of this poem – Ivan Nekhoda (1910-1963), Ukrainian Soviet poet, writer, journalist. To the tune of the Russian "Yalinochka", he created his own text, which is kind of the anthem of the new year holidays in Ukraine.
Friend and biographer Ivan Nehody, Valentyn Bychko, wrote: "He was very fond of both children and adults. Because he was a man of cheerful and gentle disposition, always smiling, friendly, affectionate. And he loved the poems. He put them everywhere: at home, in the tram, on vacation. Sometimes, talking to him, he carefully listens to you, meanwhile, in his head floating line and sad, and funny, and strong, and gentle, but always sincere, heartfelt, excited. Now, in the hands of his notebook and in it small thick hand written that just now appears only in the imagination."