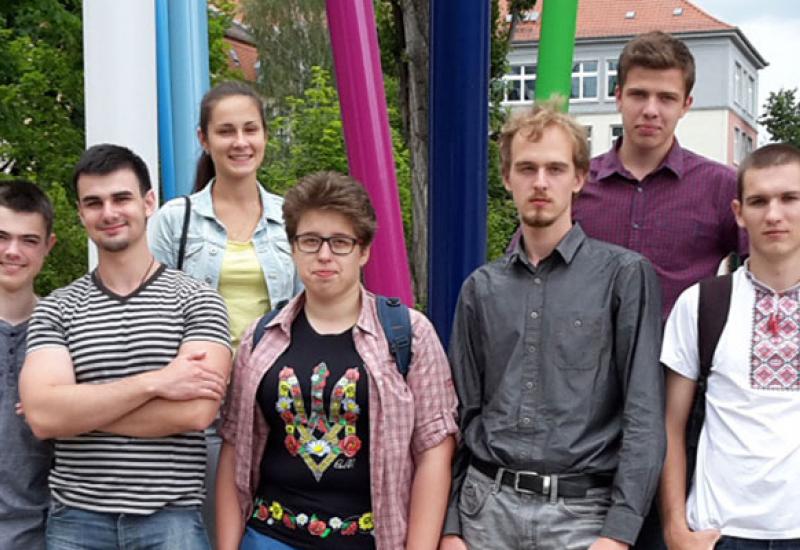 This summer, we, the students of "Igor Sikorsky KPI", who successfully completed the second course of the Joint Ukrainian-German Faculty of Mechanical Engineering, held a summer language practice in the University after Otto-von-Guericke in Magdeburg (Germany ).
The main part of our practices was training with native speakers. Every day we had three or four hours of German. In these lessons, we not only fulfill ordinary tasks of grammar, perception read and heard, but just talking with the teacher. We learned many interesting facts about the history of Germany, the country's landmarks and features the German lifestyle.
We also had an excursion of the Faculty of Mechanical Engineering, where for us briefly described the main work that is done there, and showed a variety of technological equipment.
We usually went to walk the city after lessons. Magdeburg has many attractions such as House Museum Otto-von-Guericke or Cathedral. In addition to the important historical and cultural monuments, there are also enough places for rest: parks, waterfront river Elbe. It is very useful in terms of language practice was walking to the shops. Especially we are favored book.
We had the opportunity to travel Germany at the weekend. We visited Berlin, Potsdam, Wolfsburg, Leipzig and Dresden.
It is worth noting Car City in Wolfsburg, this complex, located near the factory Volkswagen. The complex includes a car museum where you can learn about the history of the automobile and see many legendary and a renowned car and pavilions companies within the group Volkswagen, where you can learn a lot about a particular brand, and some even immediately choose and buy a car.
On the last day before leaving we made cycling to Magdeburg Water Bridge (WasserstrabenkreuzMagdeburg) that located by the river Elbe, which connects two important channels: Elbe-Havel Canal and the Mittelland Canal, through which the connection to the industrial area, Ruhr valley.
This practice was very useful to us. First, we talked every day for a month with native speakers, we learned to understand and speak clearly to them. It is also important to overcome yourself and start speaking German. Second, we improved our language skills in the classroom. Also, useful, interesting and important to us appeared to get acquainted with faculty and visiting the library. We learned which work is done by students in the University after Otto-von-Guericke, which opportunities they have for this. Viewing literature gave us an idea of which areas are working that are more developed. Overall, we not only improved the knowledge of the German language, but also the knowledge to help choose the future of the industry.