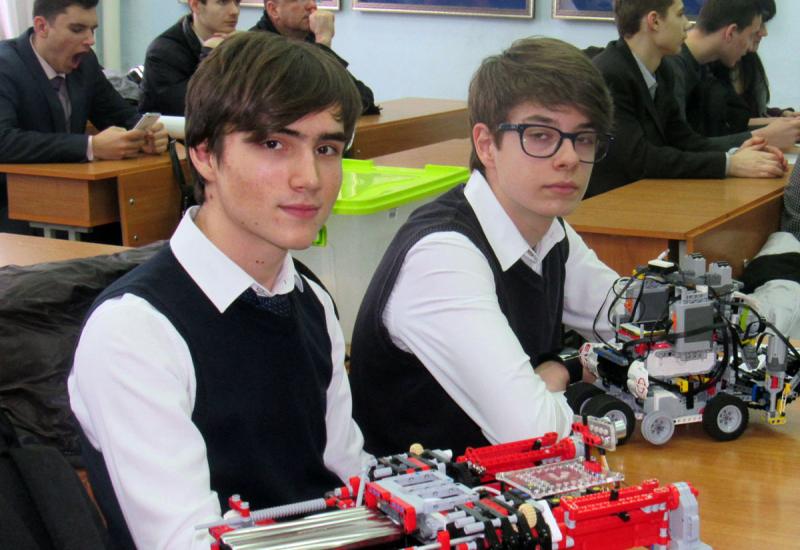 Nowadays Ukrainian society more than ever needs major innovations. At the same time, in Ukraine dominates the "economy of things" whereas in developed countries it is the knowledge economy which prevails.
Secondary and higher education is the main factor that influences social, economic and cultural progress in our country. Only highly-educated and creative young people can help Ukraine to approach the leading countries of Europe and the world.
Unfortunately, training of intellectual elite in Ukraine is restrained by the existing education system. Here are the primary weaknesses of the system:
Dogmatism and reproductive form of knowledge transferring. Students are given dogmas, conventional opinions, theories and theorems to remember and then to recite without solid comprehension on the exam. Because of this students are losing interest in gaining knowledge and do not learn to think independently. Students should be able to put forward their own ideas and hypothesis, carry out investigations and get their own results while studying. Students should have an opportunity to work at least two hours per week on a problem hasn't been solved yet (this helps students to believe in themselves).
There is a disregard of manual labour as an appropriate occupation for an intellectual and, therefore, inability "to think with their hands". Vocational and technical institutions are being closed. Workrooms were closed in many schools. In many institutions of higher education there are no workrooms for future engineers to learn a job of mechanic, machine operator, welder, steel-maker etc.  Workrooms are being replaced by computer classes, though computers (information technology) must be connected with manufacturing equipment (new equipment and new technologies). Nowadays young people are encouraged to become lawyers, economists and programmers regardless to the fact that not only informational processes but also those of energy and material use enables operation at an enterprise and it is the material product, not the virtual one, which is of prime importance.
Academic programs lag behind the latest scientific and technical achievements. Some school disciplines are studied for the second time in the institutions of higher education.
Emotional education is neglected. Love of literature and art is not being cultivated to the youth. It is well-known that children and youth develop emotionally when they learn about works of art and literature, get familiar with lives of genius, famous scientists and inventors.
There are unseasing, unchecked, untested and not prepared properly changes in education system. We do not have adequate experience so they are more likely to be unjustified experiments on people. The course towards European education system is not accompanied by thorough and long-lasting approbation. Education system should be conservative to a certain degree.
Having taught various disciplines (Research Writing and Style and Basics of Technical Creation, Design, Ergonomics, Machine-tools, Industrial Work, Intellectual Property Rights, Patenting) to the students of technical institutions of higher education for fifty years I can assert that in order to keep up with the times one should continue learning all his life. It is necessary to overcome inertness of mind and broaden the outlook. To achieve these one should study creatively what includes using methodology of creating, permanent self-education (tracking new findings in science and technology), retraining and advanced training.
Several years ago after reading book "Basics of electromechanical systems evolution" by the Head of Electrical Engineering Department, DEng, professor V.F. Shinkarenko, I found out that the ideas developed in the book can be applied to machine-tool design. Subsequently, I introduced a concept of new-generation machine-tools controlled with computers using genetic automatic approach. Students assemble compact machines from limited quantity of construction units, write control programs and machine complex-shape components.
Industrial, scientific and creative activities aim to meet the needs of society and to solve its problems. However, creative activity should be oriented towards current public needs rather than be of pure interest (although the results may be of benefit in the future).
Taking into account all mentioned above, I would like to focus attention on continuous training of technical elite able "to think with their hands" and implement innovational ideas for Ukraine to reach the leading countries of Europe and the world.
Continuous training of such elite – young generation of creators of new Ukraine – that starts from pre-school and primary education and includes secondary, higher education – work at the enterprise - postgraduate education and doctorate should be focused on revealing and effective use of students' potential abilities. There must be created an appropriate environment to enable children and youth gain practical skills: construction sets in nursery schools, workrooms and career-guidance offices in secondary school and study groups in the institutions of higher education.
Courses in Life and Achievements of Eminent People, Engineering Systems Theory, Basics of Design, Technical Forecasting, Theory of Genetic Evolution of Engineering Systems etc. should be taught in educational institutions along with currently existing Specialty Introduction Course, History of Science and Technology, Research Writing and Style, Scientific Research Methodology and Intellectual Property Rights courses (see the chart).
A graduate should have worked at the enterprise for at least three years to develop his or her intellect and be able to create new machines and technologies. There can be two variants: a) parallel; b) successive. According to the first variant a graduate enters post-graduate studies and at the same time works at the enterprise. According to the second variant he or she works at the enterprise after having graduate the university and then takes a post-graduate course.
In such a difficult situation Ukraine is facing now only scientific and scholastic investments can preserve and boost intellectual resources of the country. You will not get a harvest without sowing seeds and looking after them. This is also true for the intelligence level of the nation.
Today the task of science is to reveal system harmony in different branches of knowledge and to acquire the strategy of scientific foresight for us to have better future and the task of education system is to help students develop system-thinking and creativity for them to be able to solve complicated interdisciplinary problems.
I call on you to continue the discussion on searching the ways to improve quality of education system and science in Ukraine.