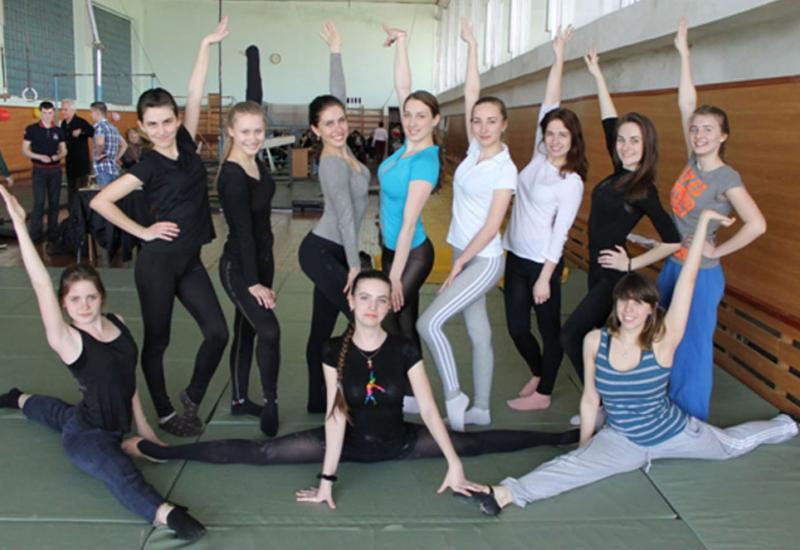 In the sports complex of our university on April 20-21, competitions in gymnastics were held within as a part of the NTUU "KPI" Spartakiade. According to experts, the KPI is the only higher educational institution in Ukraine, where such competitions are held. The aim is to popularize gymnastics and summarize the work of tutors during the academic year.
Gymnastics is available to almost everyone. Thanks to the students' training, the posture is improved, motor skills are formed, cheerfulness and energy appear. Gymnastics is focused on  preserving and improving health and beauty, forming a sense of rhythm and pace, raising physical qualities and acquiring applied skills.
Under the program, competitions were held in individual and team competitions among students. Participation was attended by 23 faculties. In the uncompromising struggle, the winners were determined: I place - FBE, II place - FCE, III place - IPT.
Personal championship among girls. 2nd category: 1st place - Svitlana Pilyupenko (FBE, 28.9 points), II place - Olga Krestoshina (FCE, 28.1 points), III place - Anna Stupak (FMM, 27.8 points) . 3 rd category: 1st place - Alexandra Difuchina (FICS), Maria Ilyina (FICS), Maria Bryukhatska (IFT), Vinarik Mazanka (FICS), all with the result - 28.3 points; II place - Olena Boichuk (IFASA, 28.0 points), III place - Maria Kozlyuk (FICS, 27.6 points).
Personal championship among young men. 1st category: 1st place - Mikhail Maslov (FBE, 45.7 points). 2nd category: 1st place - Oleksiy Smilyhlynov (FCT; 44.9 points); II place - Yevgeny Fadeev (FCE; 44.7 points); III place - Vadim Doroshenko (IESEM, 44.6 points) . 3rd category: 1st place - Dmytro Myhaylets (IME, 46.9 points), II place - Alexander Truba (FICS, 46.7 points), III place - Oleksiy Kovenko (FICS, 46.5 points).
Skilled specialists in gymnastics were invited to the judge's team: judges of the republican category - the head of the Department of Physical Education at the Boris Grinchenko Kiev University- assistant professor A.M. Yeretyk; Senior Teacher of the Department of Theory and Methodology of Physical Education of the M.P. Drahomanova National Academy of Sciences of Ukraine master of sports V.F. Sheghimaga; the judges of the highest category are masters of sports, students of the National University of Sport and Social Sciences I.Lulchuk and A.Stankov. Tutors of NTUU "KPI" Department of Physical Education also took part in the judging: s. teacher A.M. Smovzhenko, assistant professor I.V. Zenina, s. teacher V.I. Shishatskaya, s. teacher V.E.Dobrovolsky, s. teacher S.U. Sharafutdinova.
The participants say.
After the bouts, the athletes shared the impressions that the student of IFASA Oleksandra Chechelnytska wrote down.
Igor Shevchuk: At first, I felt butterflies in my stomach. That charge of positive emotions won the anxiety. I am satisfied with the result, because the main thing is not victory, but participation. I want to say a huge "thank you" to my teachers who taught and inspired. Wait for me at the next competition; I will train all year round to show my best. By the way, if you see in the photos of the guy who falls the most, that I was.
Alexandra Difuchina: This was my debut in gymnastics, I had been involved into rhythmic-sportive gymnastics for a long time. There was a friendly atmosphere in the hall. At the workout, the participants gave each other piece of advice and shared their personal experience. I want to mention the good organization of the competition. I was especially surprised and pleased that we, ordinary students, were judged by a republican category judge. In general, it is very cool that students of the KPI have the opportunity to develop not only professionally but also physically. I want to thank teachers for organizing this sport event. Thanks to them, I tried myself in something completely new; got a good experience and now I can proudly say that I have the third grade of gymnastics.
Valeria Kondratyuk: It was incredible! Strong work is needed to achieve results, and I hope that next year my performance will be better. I like the performances of rivals, I was genuinely happy when the others succeeded, because we are all goodies!
Michael Maslov: A warm atmosphere, cool opponents, who activate the motivation for self-development. Thanks to the judges, everything was great and prompt. If there is time - I will come at the third course to show even better result. I want to thank my team, it felt like we were well acquainted and supported each other, this was the most important factor in my victory.
Yevhen Fadeev: Competitions were intense, there were strong rivals. I hope to achieve more success next year. I like to do sports and thank the teacher Volodymyr Eduardovich for help in preparation. Those who want to work out, I wish not to be lazy. Being better motivates to achieve even such results, which in the beginning seemed impossible.
I, like every teacher, am pleased with the students who have dared to take part in the competitions. Even more, we are proud of their achievements. It's joyful to watch cheerfulness, energy and excitement in the eyes of the participants and see among the girls who were afraid and could not dare to compete for a long time. What a feat for them to overcome their fears and leave the hall as winners! It seems recently it was September, when inexperienced students came to classes, and in the spring - a completely different matter, they are capable of showing their best and it is impossible not to bring joy!