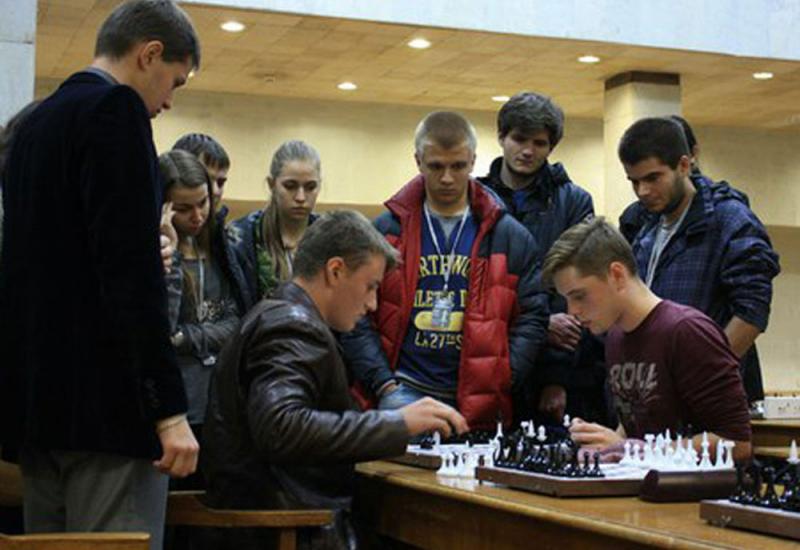 28-29 October on the basis of "KPI" occured Intercollegiate Chess Tournament "Cup of Rector" KPI ". Autumn-2015". In the framework of organized 2 tournaments:
- OPEN-tournament, which was attended by 39 players;
- Tournament "A" (No category), in which 22 players fought for the championship.
Total participation in the competition registration is confirmed More than 60 players who represented not only "KPI" but eight Kiev and Dnipropetrovsk each university and the National Academy of Sciences of Ukraine.
Fierce fighting was on the boards until the last round. This was particularly noticeable in the OPEN-tournament, where they played chess players of high qualification (13 candidates for masters of sports and 26 first-grade).
After the final round of the 9th place as follows.
OPEN-Tournament: 1st place - Alex Hrinovskyy (KNEU); 2nd place - Maxim Kazakov (KNU. Shevchenko); 3rd place - Gleb Bufin ("KPI").
OPEN-tournament among girls: 1st place - Valentine Tushino (NUSTS); 2nd place - Angelica Val'kova ("KPI"); 3rd place - Sofia Sea (NUSTS).
Tournament "A": 1st place - Vasyl Kotya ("KPI"); 2nd place - Michael Lipsky ("KPI"); 3rd place - Maxim Chukhno ("KPI").
OPEN-champion of the tournament was awarded the Cup of Rector "KPI". The rest of the winners received medals and sponsors gifts.
"Highlight" in memory players remain professional photographs, personal badges and delicious coffee with cookies from the organizers of the tournament, which was a pleasant surprise. It should also add that the best shahi¬sty OPEN-tournament play electronic clock, that added extra comfort and prestige of the competition.
In the closing ceremony was attended by honorary president of the Chess Federation of Ukraine Leonid Bodankin and Vice-Rector of "KPI" Peter Kyrychok. The guests congratulated the winners and expressed their impressions of the tournament.