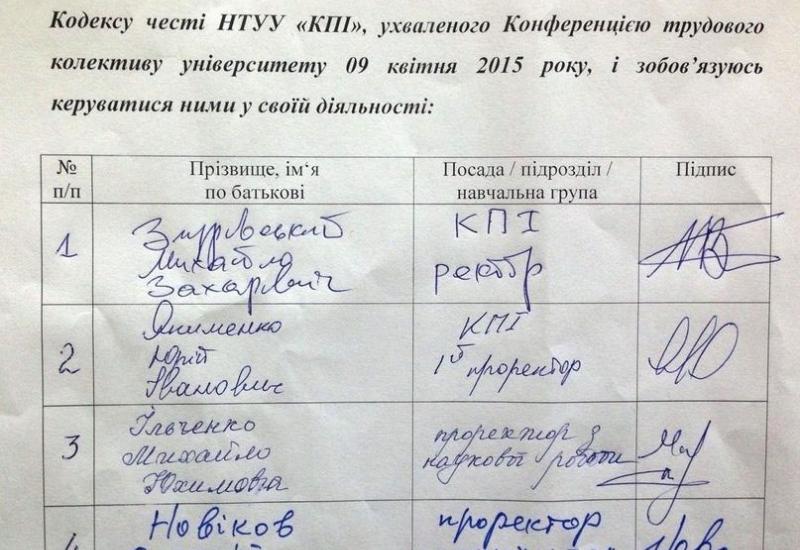 The 12th of May 2015 was the Academic regular session of the university.
It began by congratulation of the jubilee person – a head of a department of general and theoretic Physics academician of NAS of Ukraine, Doctor of Physical and Mathematical Sciences, professor Vadym Mykhaylovych Loktev.
The first issue of the order was information about a status of introduction provisions of Act of Ukraine "About higher education". The speaker was the first prorector Y.I. Yakymenko. He informed about those changes, which must be made according to adoption of the Act, that is about diplomas and additions of NTUU "KPI", consolidation of knowledge branches (from 54 to 27) and specialties (from 514 to 111), changing into 30-hours credit, graduate changing into 600-hours preload, affordance of 25% of subjects as a free options and struggling and preventing plagiarism.
Then there were contest questions and current business, in particular issue about introducing new honorable reward "Outstanding personality of NTUU "KPI", which will get KPI workers, who made an important contribution in development of the university, creating of new schools and preparation of highly qualified professionals. The reward will be obtained by an open voting on the Academic session of the university by recommendation of commission expert estimates. It is being planned that the honorees will receive a diploma and a commemorative medal.
Besides, it was viewed an issue about the order of introducing in the university the rules of Honor code of NTUU " KPI". The speaker was academic secretary A.A. Melnychenko. He informed, that the Code will be in a form of a brochure, which will contain the main rules of this document. Rector of NTUU "KPI" M.Z. Zgurovsky was the first who signed the Honor code, expressing support of a new stage of university life.