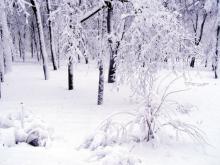 KPI territory was before a military field pitted with ditches without a single tree. On the border of the current avenue Peremogy there was a ditch depth above 2 m. Almost simultaneously with the construction of academic and residences buildings there have been established arboretum and park area of about 15 hectares.
Park alleys joined the nearby streets with the educational and residential areas. As a rule, alleys cased with trees and shrubs. The following alleys still exist and are in a very satisfactory condition: ash alley in the eastern part of the park, linden alley from the fourth building to the Avenue Peremogy, oak alley in the southern part of the park, chestnut alleys on the avenue Peremogy and near the first building. Solid landing from Avenue gradually passed into the landscape semi-open and open spaces in buildings. This made it possible to combine organic ornamental trees and shrubs between themselves and architectural structures, create scenic views "KPI". Among a variety of trees there are stood some trees and groups: among them pines, spruces, larches.
Most of the plants were planted on the type of forest crops, ie seedlings aged 2-5 years. The seedlings were imported from Fastiv Forestry: locust, silver maple, elm, oak normal, ash, linden, norway maple, pine, birch and spruce. The Botanical Garden of the University of St. Vladimir of Kiev shared with KPI the most decorative and rare trees and shrubs. Best of all there accustomed common larch, oak, ash, silver maple, linden.
During the Great Patriotic War KPI Park was not injured.
In 2006-2008, the project of the Institute "UkrNIIinzhproekt" Office "Kievzelenstroy" there was carried out the reconstruction of the park: the dry and diseased trees were removed, where possible, there were restored the contours of old fields, planted new trees and shrubs, lawns were arranged. This has made regular park on a regular landscape.