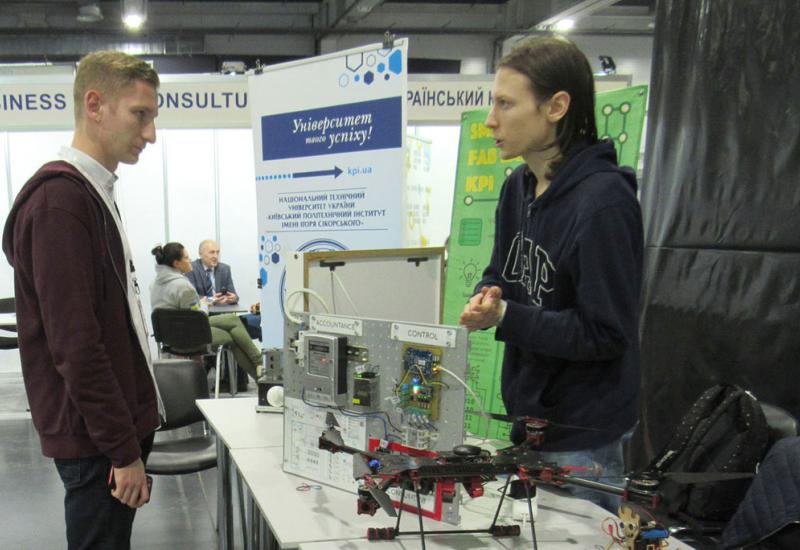 Igor Sikorsky Kyiv Polytechnic Institute presented its exposition at the IV International Forum Innovation Market, which took place on November 5-7 at the International Exhibition Center. Educational and scientific departments of the university RTF, MMI, IAT, TEF, PBF, ІFF presented their developments.
Specialists from TEF Department showed a smart meter and a remote control system for devices. MMI developments were mobile water purification setting, multifunctional hydrogen station, cavitation and magnetic modifier for liquid media, high power ultrasonic irrigation nebulizer for mechatronic wearing systems. The department of RTF demonstrated an irradiation-transforming module of quasimonopulse system of high-precision low-orbit remote sensing satellites' autotracking of the Earth, and also GPS/GLONASS navigation antenna array with the ability to adaptively suppress active interference. In addition, the department of IFF presented the idea in the production using new technological processes as 3D printers.
According to the vice-rector for scientific work of Igor Sikorsky Kyiv Polytechnic Institute Vitalii Pasichnyk, who took part in the event, this forum is a platform that collects innovative developments from universities, companies or small firms. The presented developments can be considered as those on which you can build a business in the future. Vitalii Pasichnyk said, 'The exhibition is also useful in that a developer who demonstrates something of his own has the opportunity to get acquainted with what other forum participants are doing and what is trending today'.
Visitors to the forum could get detailed explanations from Igor Sikorsky Kyiv Polytechnic Institute representatives who worked at the exhibition.