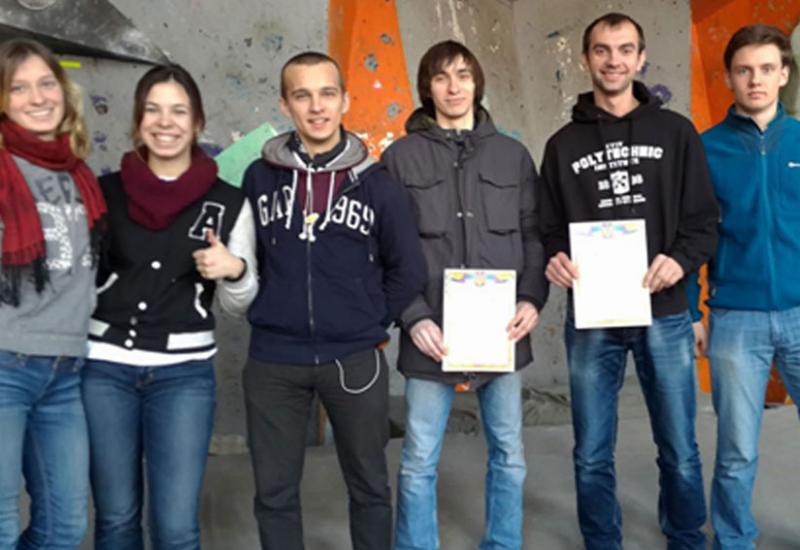 The tenth climbing championship of Ukraine among students (type of program - bouldering) was held on February, 19-21 in Kryvyi Rih. 70 strongest athletes - representatives of 14 universities come to measure dexterity. NTUU "KPI" was represented by the 6 best athletes in this form: captain of the team Evgeniy Kozak (the graduate of TEF, an employee of the Department of perspective development), Artem Paukayev (FEL), Anton Yezhov (FMM), Julia Kamkova and Maria Zakharova (FBMI), Mykyta Strahovskyy ( VPI).
As a result of hard fight our athletes took honorable first place, leaving the nearest rivals behind - teams of Kharkiv Aviation and Kharkiv Polytechnic universities. In the individual competition Artem Paukayev finished the third. In the last five years our team took prizes at the championships of Ukraine, but there weren't enough skills for the champion's title. "Very little", - said the climbers. This "little" was overcome through intense trainings at the modern climbing gym "Zeh". Athletes are grateful to its senior staff for the warm welcome and given opportunities for training. They also advise everyone to visit this cozy place where you can relax actively and test yourself.
Students of KPI are involved in climbing. The building of the own climbing walls continues in sport complex of KPI where you can train during the lessons and leisure. The initiator of the construction was Eugeniy Kozak, coaches of tourism section, including V. A. Myhaylenko and staff of KPIrelax participate in this project.
Enthusiasts would like to thank the trade union committee of students and staff trade union for assistance in purchasing materials for construction. Information about the progress of the construction of climbing walls and interesting information about climbing can be found in social networks: KPYskala VK, KPYskala FB.