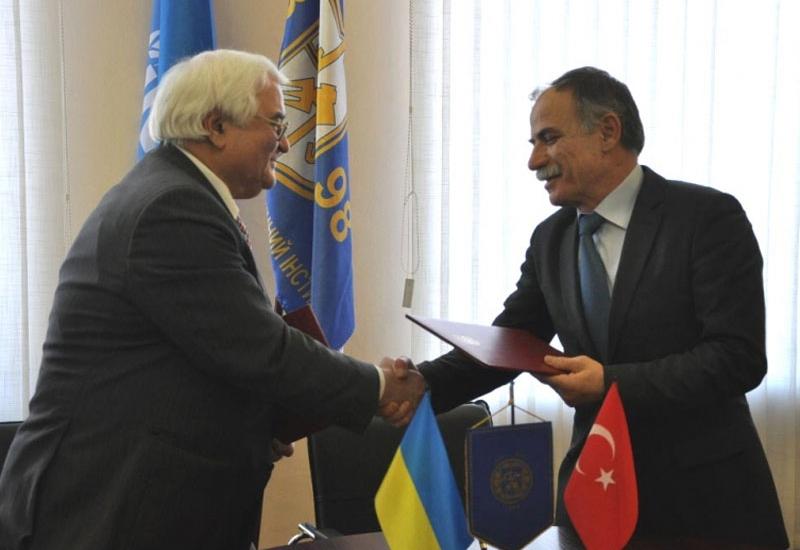 On April, 2 NTUU "KPI" concluded the cooperation agreement with university Ondokuz Mayis (t. Samsun, Turkish Republic). On behalf of Kiev Polytechnic the agreement was signed by the vice-chancellor with international relations, corresponding member of NAS of Ukraine Sergiy Sydorenko, on behalf of Ondokuz Mayis - rector professor Hussein Akan.
The university delegation Ondokuz, including rector Hussein Akan and his wife, Dean of the Faculty of Aerospace Engineering Souleymane Tolun and the school head of civil aviation which operates in university structure, Fersat Kolbakir got acquainted with NTUU "KPI" and activity of its subdivisions. However, the adjustment of the academic contacts with faculty of aviation and space systems was a main goal of visit of the Turkish guests to Kiev. Therefore signing of the agreement was preceded by negotiations with the faculty management about the organization of interaction both in scientific, and in educational directions and signing of the relevant protocols.
As the dean of faculty of aviation and space systems professor Alexander Zbrytchsky reported, scientific cooperation provides implementation of projects on development of the extralight plane, the pilotless aircraft, creation of the combined aviation engine and others. Cooperation in training of specialists as is planned, will begin with granting from NTUU "KPI" of the help to the Turkish colleagues in the organization of educational activity again faculty of space equipment of university Ondokuz Mayis and preparations of masters and PhD (i.e. doctors of philosophy, corresponds domestic to a candidate's degree). Coordination of curricula with the subsequent organization of educational process according to the double degree program.
Thus, the agreement signed today defines the main directions of cooperation between two universities. Stages and specific conditions of the organization of such work will be determined in contracts by the corresponding directions which have to be prepared until the end of May of this year.
University of Ondokuz Mayis is one of the biggest state universities of Turkey. Located in the north of the country in Samsun - the largest city on the Black Sea coast of Turkey with the developed industry and the population exceeding one million people. The structure of university with about 40 thousand students includes 13 faculties, 5 institutes, 3 higher and 9 vocational schools.