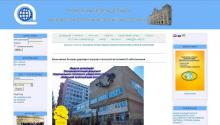 Seminar on "economic security, scientific and technological aspects of security" is dedicated to the memory of Igor V. Nedina - founder of scientific school study problems of economic security in Ukraine, enthusiast research on sustainable development, environmental management, economic and energy modeling processes and systems.
The mission of the workshop is to unite all stakeholders decision to discuss topical problems of economic security, establish international contacts, exchange of practical research results.
THEMATIC AREAS OF WORK:
Problems and mechanisms of economic security entities (state, region, enterprise) in the context of globalization
The main components of the economic security of the state (financial and economic, investment and innovation, foreign trade, resource and raw materials, food, etc.)
Environmental aspects of economic security
Mathematical methods of systems research component of economic security (modeling, forecasting, optimization)
Information technology and software analysis components of economic security
Energy Economics, the methodology of energy security, energy efficiency strategy
«Smart Grid» energy technologies.