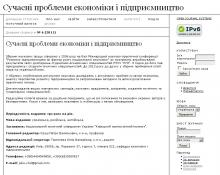 Collection of scientific works created in 2006 on the basis of the International scientific and practical conference "Development of entrepreneurship as a factor in the growth of the national economy" as an opportunity aprobovuvAnni results of their research students of economics "KPI". With a year in its ranks and joined the students of technical specialties. By 2013, in the print collection of articles accepted only in Ukrainian.
The book published the results of scientific research on urgent problems of the modern economy, the analysis of prospects for the development of entrepreneurship and propose methods and ways of solving practical problems.
For university professors, researchers, graduate students, technical and humanities.
The Editorial Board considers it appropriate to inform you that not all provisions of the individual authors and conclusions are indisputable. However, we believe it is possible to publish them to discuss.
ISSN 2414-9306 (Online), ISSN 2310-5534 (Print)
Base: Index Copernicus (ICV 2014 = 22,34), ELAKRI, OJS, WorldCat, Research Bible, Google Scholar, OpenAIRE.