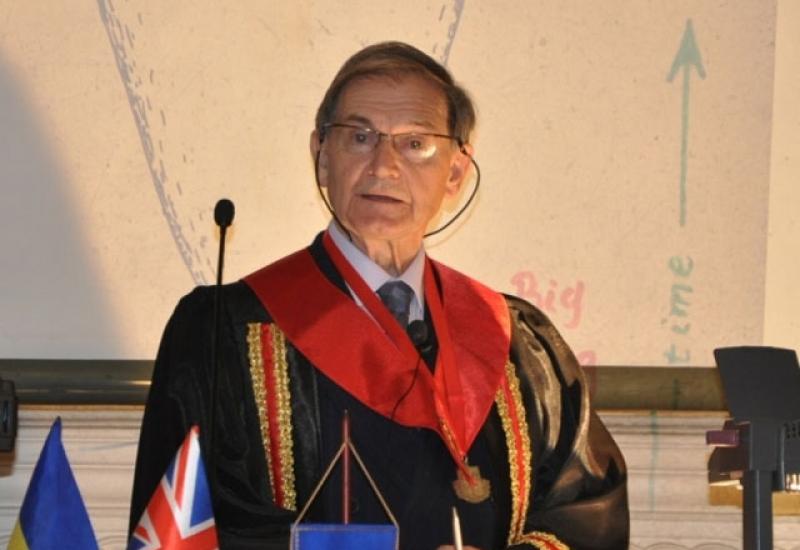 On October 30, 2012 Sir Roger Penrose, prominent English scientist, an inventor of twistor theory, who is actively working in various fields of mathematics, physics, general relativity and quantum theory visited NTUU "KPI". He is Emeritus Rouse Ball Professor of Mathematics at the University of Oxford and is an honorary professor of many universities and academies, as well as Fellow of the Royal Society of London.
Sir Roger Penrose has been awarded numerous prizes for his contributions to science, including Albert Einstein Prize, Wolf Foundation Prize for Physics (1988, sheared with Stephen W. Hawking), Copley Medal (2008) and Royal Society Royal Medal.
Professor Penrose is the author of some books. His "The Emperor's New Mind" and "The Road to Reality" have become scientific bestsellers. For outstanding achievements in science the Queen Elizabeth II granted him the title of knighthood.
Visit of Sir Roger Penrose to Ukraine was supported by the "SKS" group of companies that was represented during the meeting by its Director General Pavlo Mazurok. The company aims to implement recent achievements of information technology and scientific developments.
At the beginning of the visit Sir Roger Penrose had a meeting with leaders of NTUU "KPI", got acquainted with the past and present of KPI and its scientific activities.
During the meeting of the NTUU "KPI" Academic Council Rector Michael Zgurovsky awarded Sir Penrose with a diploma of "Honorary Doctorate Degree" of NTUU "KPI".
After the ceremony Sir Roger Penrose delivered a lecture «Seeing Signals From Before the Big Bang» to students, teachers and scientists. The lecture was devoted to the problems of modern cosmology and astrophysics, as well as history of the universe, latest discoveries in this area, and prof. Penrose expressed his own vision of the problem that is currently discussed in the global scientific community.