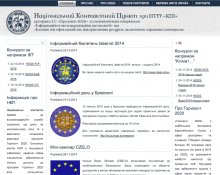 Peremogy Avenue, 37, the main building, room 171/4, Kiev, 03056, Ukraine
Phone: +38 044 204 82 77; Tel. / Fax: +38 044 204 80 19
E-mail: ncp.kpi.ua[at]gmail.com
National Contact Points (NCP) these are highly professional support services working at the national level. This is  an important component of the program Horizon 2020 The main purpose of the NPC is  the spreading an information, providing experts' advices, easy access to the Horizon 2020 program to all potential applicants.
"Horizon 2020" is the largest program of the European Union in the field of research and innovation. Its budget is about 80 billion euros for the next seven years (from 2014 to 2020), not including future investment from private individuals. The program should provide a breakthrough in the field of science, discovery and innovation through the implementation of innovative ideas.
The program "Horizon 2020" is open to everyone. It has a simple structure, reduces the red tape paperwork, allows participants to focus on what is really important. This approach provides a quick launch programs and their instant success.
The main goals and objectives of the GCC:
Organization of informational and promotional activities concerning the possibility of participation in the program "Horizon 2020" - information days, seminars, conferences, newsletters, websites and the like.
Provide information on other European programs in the field of research and innovation - COSME, Eureka, COST.
Assist researchers and organizations of Ukraine in order to increase their participation in the program Horizon 2020.
Helping to find partners and making  consortia.
Advice on administrative procedures and rules (the role, rights and responsibilities of participants in the consortium, costs, ethics and principles).
Advising Ukrainian participants of the program "Horizon 2020" to establish appropriate management and legal structures in projects with large budgets and / or a large number of participants.
Help the amount and mode of financing schemes that will be used in the program "Horizon 2020".
Training courses and workshops on the program "Horizon 2020".
Organization of courses and training seminars for specific target groups (universities, business organizations, women in science etc.) or on specific topics (legal aspects, conditions of participation, research and innovation, which are covered by more specific topics and programs, financial rules, etc.).
Liaise with other NCP in Ukraine and other countries, as well as with the relevant services of the European Commission on any matter of participation in the program "Horizon 2020".
Monitoring the participation of Ukrainian program "Horizon 2020" and other European programs.